New HIV awareness campaign hopes to start conversations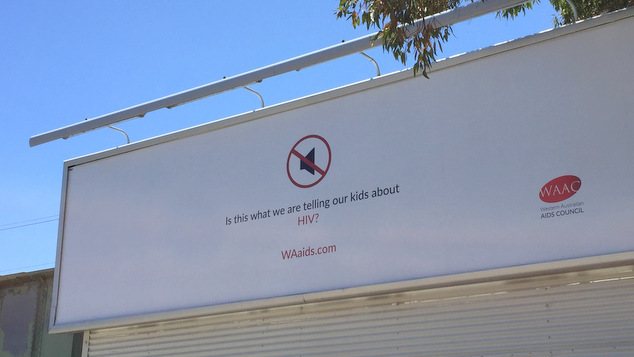 A growing number of younger people are acquiring HIV, a trend that has prompted the WA AIDS Council to launch a new campaign to encourage conversations about sexual health.
The new campaign will run in the lead up to World AIDS Day on December 1st. The council described this years program as the most significant and extensive in it's 30 year history.
Council Chief Executive Officer, Andrew Burry, said that this year's campaign was a response to the growing number of younger people – predominantly male – acquiring the virus.

"We need to ensure that HIV is discussed much more in mainstream settings, and we are calling on parents and educators to start the conversation with young people in their care", Burry said.
The CEO said the program aims to ensure that society does not produce another generation of young people who are oblivious to the risk of acquiring HIV, highlighting that HIV remains incurable, and if undiagnosed and untreated, can lead to fatal acquired immuno-deficiency syndrome or AIDS.
In 2015, Australia recorded 20 new HIV infections every week, and the annual number is about the same as 1989 in the midst of the AIDS crisis.
The campaign will include billboards in high traffic locations around Perth asking the question; What are we telling our kids about HIV?
The campaign also includes information and other resources to help start, what for some, may be a potentially awkward discussion.
Andrew Burry said that young people today are more vulnerable to HIV than before, given their increasing travel outside Australia, which is frequently to countries where HIV rates are much higher than at home, and where epidemics are rapidly expanding.
The health expert added that the influence of alcohol and other drugs as well as a tendency to change behaviours when overseas can add to the risk.
"If we send our kids into the world without even the most basic information, then we have young people exposing themselves to dangers they weren't ever aware of." Burry said.
"Lack of knowledge also means a lack of motivation to get tested for HIV and other STIs, and since many of these frequently occur without symptoms, the risk of onward transmission is greatly increased."
The WA AIDS Council is also looking at a new approach for creating discussions about sexual health and awareness of sexually transmitted infections.
"Younger people embrace technology and talk to larger numbers more regularly than ever before. The WA AIDS Council believes that this also offers a huge potential for raising awareness of HIV and its consequences." Burry said.
Creating a starting point for conversations is the goal of the new campaign but the effectiveness of the campaign will rely on community members taking up the challenge of continuing the discussion.
"There is no doubt that the conversations young people have amongst themselves will have more impact than government sponsored health education campaigns or simple condom promo on, but those conversations need to get started and that's where educators and parents play a crucial role." Burry said.
The WA AIDS Council said their World AIDS Day Campaign will raise community awareness of HIV, but there needs to be a far greater profile in the home and school if young people are to be equipped to make choices that keep them safe.
"If you aren't talking to your kids about HIV, then maybe nobody is", Andrew Burry said.
OIP Staff