Tame Impala – High on Success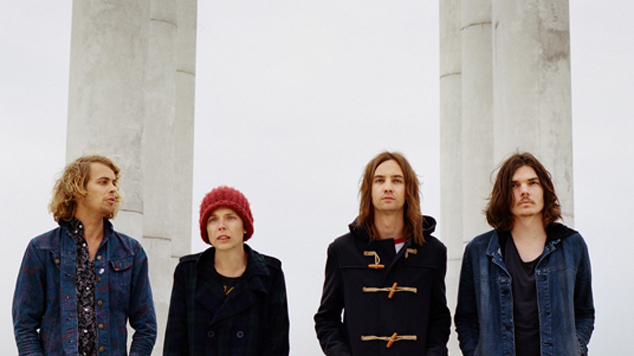 One of the best psychedelic rock bands to roll out of Perth has landed back on home soil after an exciting two years of huge success and overseas touring. 2010 saw the local group propelled to international success following the release of their debut album Innerspeaker.
Described as reviving the old psychedelic rock sound reminiscent of the '60s and '70s, band member Dom Simper explained how they didn't intended to regurgitate sound from a different era.
'[There are] definite similarities between the emotions and realities as far as song writing goes but I wouldn't say we sound particularly '60s and '70s, it definitely is that spirit of song writing that is kind of similar. We don't really see ourselves as reviving a sound, making music is a very personal thing; it's what is applicable to you in that current moment.'
Signed to Modular Recordings, the band were given a two year time bracket to produce a second album, responsible for much of the song writing and music-making, front man Kevin Parker created sound amidst hectic touring schedules.
'It's done all over the world on planes on tour buses in France, in Australia, so it's a less cohesive process,' Simper explained.
'The time constraint is probably a good thing as far as productivity goes because it does give you a kick in the ass to hurry up a bit! You can kind of go crazy if you're just sitting there listening to the same song hundreds of times over the course of a year deciding whether its good, eventually you have to put a full stop on it.'
The group needn't have worried about the reception of Lonerism, since released in October the new album has received international acclaim, as well as taking home the Triple J Australian Album of the Year award.
Despite awards and a rapidly growing global fan base, the band is staying with two feet firmly on the ground.
'It's not something you get that caught up in or take seriously. It's always very flattering to receive awards, especially Triple J because they supported us in 2008 when we first started playing shows and they've been so supportive since, but it doesn't really change the way we go about doing things on a day to day basis it's just kind of nice feedback and that's all we take away from it,' said Simper.
Although this album has introduced a few pop undertones, Simper assures fans not to panic.
'Essentially it's going to sound like Tame Impala, it's never going to sound like Britney Spears,' he said.
Tame Impala perform at the Fremantle Arts Centre on Saturday, December 15. Tickets available from heatseeker.com.au
Nadine Walker