The ancient knowledge of Last Dinosaurs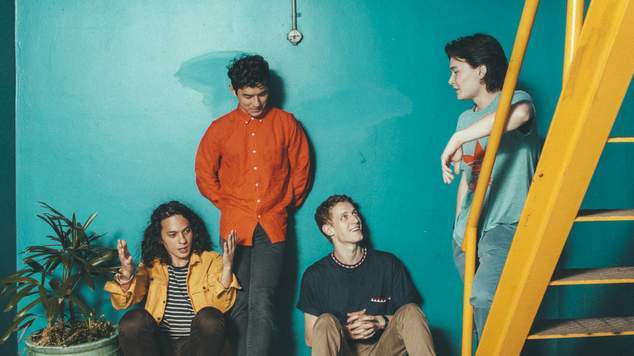 After getting a kick start from Triple J's Unearthed Project, Brisbane dance-punkers Last Dinosaurs are turning it up with their second full-length album, 'Wellness'. Leigh had a yarn with vocalist Sean Caskey about assertive tweets and making videos.
Last week you guys tweeted: "Kevin Spacey to star in new Shane Warne biopic"… do you know something I don't?
(laughs) That's the first I've heard of this. Dan posts the most random shit. I have no idea what happens on social media but if you go through the tweets apparently there's some really fucking random shit.

I've seen some gold today.
Well, Dan has a really deep sense of humour so I guess Twitter is like an outlet for him. It's sort of anonymous so you can say whatever and it seems to not really matter.
Well there's four of you, so I suppose you could just blame whoever. I see the deep humour comes through in your videos as well.
Michael Sloane, the bassist, he's always directed our film clips – before he was even in the band this time being part of the band, with the video for Apollo, he had a deeper understanding of what the song was about so we just left him to do what he wanted. The song is about wanted another life, it's actually based off the scene in 'The Matrix' where Neo is offered the red and blue pills. The security guard in the video has a secret life of being a ridiculously good dancer. The initial concept was gonna be a tradie who just parties all night, walks onto the job site and keeps dancing, but it was too hard to secure a job site.
So if Sloane is your video pro, how do you guys go about putting the album together?
Our first producer JP was the protégé of Scott Horscroft and this time we had the chance to work with Scott. Scott's been a guy I've respected for a long time, you never really pay attention to producers as a kid but I just kept noticing his name on EP's and albums and I'd think "Who the fuck is this Scott guy?" Eventually I realized he's a genius.
It was interesting to see the difference in production styles, Scott was more of about making our song sound like we want it to sound whereas JP would deconstruct things and rebuild them in a new format. I feel like these songs are more ours – like we own them a bit more.
So you're looking forward to touring with your new tracks?
Yeah, with these new songs I'm looking forward to taking it live around the country. It's fresh for the audience you get a little bit more out of it.
Catch Last Dinosaurs at The Rosemount Hotel on Saturday October 17th or at their all-ages gig at Jimmy's Den on Sunday October 18th. Tickets available from oztix.com