Bibliophile | The Kiss Quotient ticks all the boxes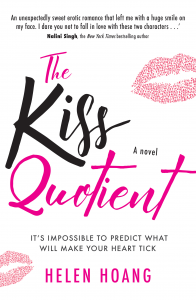 The Kiss Quotient
by Helen Hoang
Allen & Unwin
When Helen Hoang's pre-school teacher suggested that her daughter might have high functioning autism or Asperger's Syndrome, Helen did some research. She found that there is are major differences between the condition in females as they mask their awkwardness and hide their autistic traits to become more socially acceptable. Because of this, females are the "invisible part of the spectrum".
The more Helen read, the more things Helen recognised from her own life and this journey of self-realisation ended with her becoming diagnosed with autism at the age of 34. This is when thirty year-old Stella, the main character in her gender-swapping Pretty Woman novel, came into being. In writing the novel, Helen says that she could unapologetically be herself for the first time in her life.
When Stella's mother tells her at the beginning of the novel that she is ready for grandchildren, Stella freaks out. Babies meant husbands; husbands meant boyfriends; boyfriends meant dating; dating meant sex. Her previous attempts at sex had been disastrous and her severe lack of social skills meant that she had to turn down a promotion at work because she would rather deal with data than people.
Stella wanted to make her mother proud and happy but the person at work that her mother suggested was a prize asshole, so she selected an online male escort to teach her what she needed to be. Michael was an expert at the art of seduction and the first half of the novel becomes continual foreplay as this sex god tries to overcome Stella's blocks and tick all the boxes on her lesson plan. Yes, Stella has a list with boxes to be ticked.
Then the reader is thrown into the internal monologues of the conflicted lovers and an exercise that was meant to be fun and educational becomes soul-bearing. The reader discovers that both the characters are attracted to each other but they both have huge obstacles to overcome. Misunderstandings and feelings of inadequacy threaten to derail the star-crossed lovers but the reader has already fallen in love with both of them, so a happy ending just has to be where it is all heading. Read it and see … and learn a lot about the foibles we all carry around that put distance between us and other people.
Lezly Herbert
 After some new books? Head to the Book Depository