Tim Watts Discusses 'Falling Through Clouds'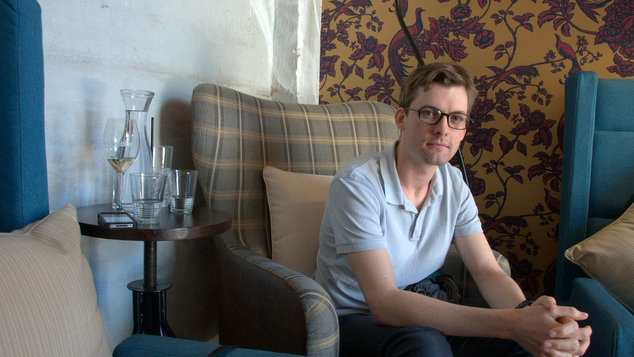 Tim Watts has consistently been delivering innovative theatre over the last few years. His recent productions 'The Deep Sea Adventures of Alvin Sputnik', 'It's Dark Outside' and 'Bruce' have all been commercial and critical triumphs, creating a great sense of anticipation for the new work.
'Falling Through Clouds' is his latest offering, a collaboration with Perth's newest and most exciting theatre company The Last Great Hunt.
Watts is one of the company's founding members alongside a who's who of successful young artists including Adriane Daff, Arielle Gray, Chris Isaacs, Gita Bezard, Jeffrey Jay Fowler and Kathryn Osborne.
"The show's about impossible dreams and wild imagination," declares Watts as we meet up for a chat at Perth's newest cool hangout Lot 20.
Set in the future, a future where there are no longer any birds on the planet, a scientist sets out to bring them back from extinction.
The initial inspiration for the show came to Watts one afternoon when he was working outside and a flock of birds flew overhead.
"I thought to myself, birds see the world in a completely different way," Watts said, "There are no walls, no roads, they go from here to here, there's nothing in their way, they just fly there…. to have the sense of just floating above it all, they're almost omniscient. "
Watt's confesses that one of the challenges of devised theatre is that you never quite know what the finished product is going to be.
Rather than working from a set script, Watts and his collaborators head into the studio with a set of ideas. The director and actors then utilise improvisation and collaboration to develop the finished product.
Watt's acknowledges the creative process of devised theatre presents a challenge to publicists, who have to sell a show without completely knowing what it's going to be about.
"The whole context of the show is about trying to restore the natural world." Watt's offers, "The main story within that is about Mary, a scientist who has this dream of bringing back birds, but on top of that she also has her own dreams of flight."
While brainstorming ideas with the cast Watts notes that flight has a strong connectivity with ideas of freedom and escape and that being able to utilise the power of your imagination.
'I think humans have an endless fascination with flight." Watts said, noting there was a wonderful challenge is showing flight on stage.
Watt's track record has shown that he has a great ability to harness the power of his own imagination. You can't help but wonder if the director is having a better class of dreams that the average guy. The director shares that the power of dreaming has a very personal connection for him.
"I've always kind of slept walked," Watts shares, "not very often, but last year I had some very dangerous episodes.
"Very stupidly, I sleep in a loft bed, it's about two metres high. Last year I had a dream where I was running away from something and I leapt out of my loft bed and crashed on the floor. I ripped my arm up, creating a big scar, a bolt went through and tore a chunk out of my arm.
Despite falling from a great height Watts didn't wake up and continued to run away until his girlfriend turned on the lights and woke him up, only to find him covered in blood.
Falling from the bed was the first of a series of violent dreams the director suffered. So worried was the director about what he'd do while sleeping in strange hotel rooms that he began to strategic place furniture in front of doors and balconies.
"I became quite scared of my own imagination, I became scared of my own dreams." Watts said, "My creativity, dreams and imagination are a great source of delight for me, it's my job and it's what's I do, it's so important to me."
The director says the experience has taught him that he needs to take care of himself and make sure he doesn't get too stressed. Watts acknowledges that audiences are now looking forward to his latest work and that comes with a certain amount of pressure.
"You try to ignore it, because every show is an experiment," Watts said, "but it's not just me, there's pressure on all the other guys too, so you get to share that load. There's always that pressure, people are always going to compare things, that's fine people can do that."
"I like to think it comes out of people being supportive, rather than people wanting to see me fail. I feel people want to see something good and I'll try my best. I'm really happy with what we've got." Watts said.
Watts says all of his shows are constant works in progress and he's eager to hear what people think of his newest work. The director shares that he often adds parts to the shows as they progress based on conversations that he has with audience members.
"Tell me what you think," he offers detractors, "You might have a hand in changing it and shaping it and making it into an even better show."
'Falling Through Clouds' is at PICA from September 22nd to October 1. Tickets are available at www.pica.org.au