Tina Arena's New Album Track by Track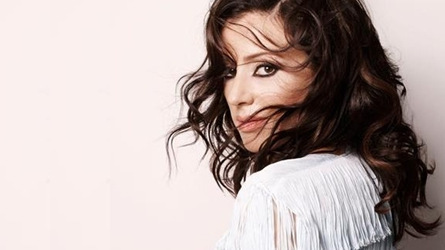 'Reset' is the brand new album from Tina Arena. It's her first album of original material since 2001's 'Just Me'.
The new album is slick sophisticated and filled with adult contemporary music. Recorded around the world, the album sees Arena writing with a wide variety of different producers.
The album has been an instant hit, released on Friday, it immediately shot to the top of the iTunes chart.
Love You Less
Arena says this song is about her personal life and her relationship with 'fame',
"Moments of frustration when you go: 'What am I doing here!' both in relationships and professionally. When you're in a crosscultural relationship where there are obviously cultural differences, they pose their challenges. You're talking about different philosophies, different approaches, but there's so much beauty that comes out of those challenges and exchanges, being constantly intellectually, spiritually and physically stimulated," Arena said.
The song has a very subtle electronica and light rock but front and centre is Arena's distinctive vocals. The sound is reminiscent of the quieter parts of Madonna's 'Ray of Light' album and A-ha's comeback album 'Minor Earth, Major Sky'. It's written with Stuart Critchton and Ilan Kidron. Crichton has previously worked with Kylie Minogue, Delta Goodrem and Pet Shop Boys. Kidron is best known as the lead singer of The Potbeleez, but he's also written hits for Jessica Mauboy and Ricky Martin. The tracks produced by David Schuler who has worked with P!nk, Ricki-Lee and many others.
Still Running
Opening with a piano this track builds up through the verses and chorus. The tracks written by Arena alongside former Australian Idol constant Hayley Warner and Dutch Producer Louis Schrool. The tracks produced by Danton Supple who has worked with Coldplay and The Doves.
Arena explains that the song is about working through you're emotional scars until they become a source of strength.
"Still Running is about having emotional scars and then arriving to a place where you're okay with that, and that they can't hurt any more. And I've come to a place where I'm so, so okay with all of that and very happy carrying those scars. In fact I'm very proud of those scars because it's those very scars that have got me to where I am today, that have given me a plethora of information and creativity to draw from," said Arena
You Set Fire to My Life
The romantic lead track is written by Arena alongside Swedish songwriting team Mattias Lindblom and Anders Wollbeck. It's one of those songs that you can sing along to the very first time you hear it. The track appears twice on the album first in a full rock version, then closing the album there's a beautiful acoustic version. There's a stack of great dance mixes waiting in the wings too, that showcase the tracks great adaptability. Lindblom and Wollbeck previously wrote song great dance tunes including Alcazar's 'Crying at the Discotheque' and Army of Lover's 'Crucified'.
Let Me In
Arena describes this song as being about  letting someone to completely be themselves.
"To allow people to be themselves, and not to be frightened to let someone in – people are incredibly guarded. It's about surrendering and not believing everything you read. Understanding that behind that picture or behind that article or behind that TV set is somebody who is human, who has feelings and goes through the same emotions as everybody else does," Arena said.
This song has a really strong difference between the dramatic verses and the sweet sing-a-long chorus. The track is written with Robert Conley, who has worked with Darren Hayes and Axle Whitehead, and songwriter Hunter Nixon.
Out of the Blue
This is the second song written with Mattias Lindblom and Anders Wollbeck. The mid tempo song features soaring strings and a steady beat. The tune changes half way through when acoustic guitars kick in. This is a tune that really sonically creates the journey that Arena is singing about, a journey from darkness to light.
Don't Hide
Arena describes this song about being yourself and not wearing masks, a recurring theme through the album. The electronic sounds in the background are quite intriguing. It starts of slow and quiet and builds up gradually. The writers on this track have impressive credentials, Arnthor Birgisson, one of the songwriting team on this track, has written and produced hits for Janet Jackson and Britney Spears.
Patchwork Heart
One of the most dramatic tunes on the album, this melancholy tune really allows Arena's vocals to soar as she sings about a relationship falling apart even though you're still in love with someone.
It's Just What It Is
One of the biggest changes in Arena's life since her last record is that she's now a mother. This song really takes the perspective of a mother and sings about the state of the world today and looks towards a simpler a time.
There's a great moment half way through this track where the lyrics are very poignant. Arena sings, "It's just those corrupting politicians with their raping, globalising positions, Misleading religions, excuses for killings, these demons run our lives." It's heavy hitting stuff.
Don't Look Back
On this track Arena declares that she refuses to live an ordinary life, and that you should never look back. The pace is much faster compared to the rest of the album, and the tune is very dramatic – almost into musical theatre territory in places.
Bring Me Love
This track is so beautiful, the orchestral sounds hint towards the soaring piano soundtracks of composers like Michael Nyman, it's rolling and uplifting. This is a super sweet song.
Only Lonely
Arena says this vocal is one of the hardest she's ever recorded, a song about being a way from the one's you love, something Arena deals with all the time and she balances careers in Europe and Australia. There's such subtle inflections in the vocals in this tune.
Destination Unknown
Arena says this song is about her 'Nonna'. When filming an episode of the TV series 'Who Do You Think You Are' Arena discovered her grandmother was abandoned as a baby, only to have the woman who took her in die when she was still a child. Arena's grandmother was then raised by Nuns. The tune is epic, and when the music drops of leaving Arena's lone vocal it's incredibly powerful.
Reset All
Arena Describes this song as being about putting things back in balance.
"There are times in different people's lives where the pendulum needs to be re-balanced, where things do need to be reset," says Arena, "I absolutely believe in the spiritually of such a concept. Call it reinvention, call it renaissance, call it a mid-life crisis, call it whatever you want; however I believe resetting things is very important."
I Can Breathe
Super catchy and surprisingly electronic in sounds, this tune is written by the DNA songwriting team who also penned Geri Halliwell's comeback song, as well as writing for Jesscia Mauboy and Reece Mastin and a ton of other Australian artists. This is a song all about optimism.
Lose Myself
Next to the album's opener and the lead single, this is one of our favourite tracks – a good reason to buy the deluxe edition of the album! Lose Myself is haunting and has a unique sound, something different for Arena. It's got so much potential to be remixed into something that would be a killer on the dance floor. Arena says this song is about letting go, but in a positive way!
OUTinPerth has five autographed copies of Tina Arena's new album 'Reset' to giveaway. Head to the giveaways page to enter. Look out for our November edition for our one on one chat with Tina about her new album, writing her autobiography and getting fit for 'Dancing with the Stars'

"