Tony Hadley Explores His Classical Side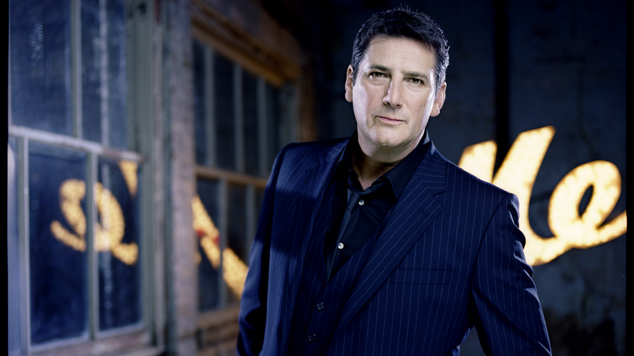 Speaking about his new album, the constant reminder of his stunning vocals on the eighties hit single 'Gold' and working with a symphony orchestra, Tony Hadley admits he's pleased to be back in the limelight and keen to talk about his new album.
"We've got a lot of strings going on with the new stuff, a lot of great synths and just really interesting tunes," he said, "I've been working with people like Rob Davis who did all the Kylie stuff and Dorris Pearson –she's actually brilliant and DJ Gosling who's been involved with One Direction."
Hadley, while still content to be touring the world and playing music, laments the change in the music business. "It's not the same as it used to be, peoples tastes and interests in music has changed… I find it somewhat difficult because I suppose in a sense it's just changed and you have to develop with it, y'know?" he said.
"But the album sounds great and hopefully it will connect with people, but it won't be out until next year." Although referring to his next yet-to-be-released solo album and keen to look to the future, it's his past with Spandau Ballet that continues to draw in the crowd.
He could have chilled out and enjoyed the royalties from the Spandau days but instead has been touring, thrown himself into various solo projects, including four studio albums through Universal Records and EMI and releasing an album of swing music on his own label, Slipstream Records.
"I normally get distracted and end up going on tour somewhere which is kind of what's happening now 'cos we're coming to Australia so it's on hold for a month," he said.
Hadley is heading down under to perform the hits of Spandau Ballet with the Perth Symphony Orchestra, he fondly recalls the last time he was in Perth was when Spandau Ballet had recently reformed, "patched things up" and had a successful run of shows.
He has experience working with an orchestra and his upcoming show promises to be a solid one for eighties stalwarts and hipsters alike. "I love it, when those strings kick in and that timp and everything else," he said "it's quite amazing the process behind this is, you've got the core, the Tony Hadley rock band in the middle and surrounded by the lush strings and brass and timpani and percussion."
"It's a really great experience, when you work with orchestras you have to be really disciplined. When you're just a rock band, if you want to talk to the audience for 16 bars you can, if you want to talk for 32 bars you can, if you forget where to come in, don't worry , the band will pick you up," he said.
"Honestly, I've heard an orchestra when it's all gone out of time or someone forgot to come in at the right place and it's a car crash, so you have to rehearsed, very disciplined, because the guys in the orchestra will follow the dots."
How often does Hadley hear that classic single 'Gold'?  He admits it got a pretty good workout at the London Olympics last year, and he was pleased to perform it personally for all the gold medal winners at a reception after the games.
Tony Hadley will perform with the Perth Symphony Orchestra on Wednesday October 30 at the Astor Theatre in Mount Lawley. Purchase tickets at Showticketing.
Joe Cassidy