Transgender activist encourages Peter Abetz to meet local community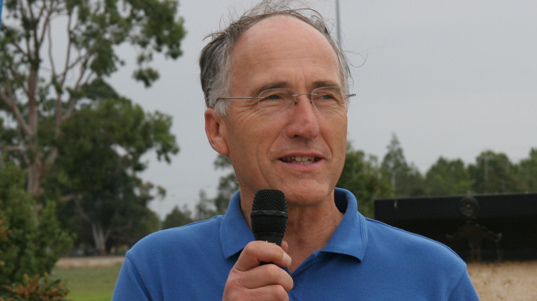 Southern River MLA has shared his concern about transgender people in post to his official Facebook page.
Since former Defence Force Chief David Morrison was named Australian of the Year, the local politician has posted a series of comments about the retired Lieutenant-General's appointment. Mr Abetz describes the selection made by the Board of the Australia Day Council as a "farce".
Mr Abetz wrote that he was dismayed at the choice, highlighting that General Morrison dismissed Army Reservist Bernard Gaynor from the military when he vocally opposed the army taking part in the Mardi Gras parade.
The Southern River MLA noted that, during his time as the head of the army, Lieutenant General Morrison had approved of transgender staff being funded to have sex change operations.
Mr Abetz said he'd been reading up on sex change operation and it had lead to him being concerned about the issues faced by people who undertake the medical procedure.The search for information had lead him to the work of Walt Heyer, an American man who underwent a sex change operation but later regretted the decision.
Mr Heyer's work has been heavily promoted by the Australian Christian Lobby, who interviewed the activist for their podcast in 2015.
Last year Media Matters America, a non-profit group who monitor extreme conservative web sites and publications, highlighted that Mr Heyer's claims in the media should not be considered expert opinion.
Local transgender advocate Aram Hosie said it would be better if Mr Abetz learned about the experiences of local people.
"If Mr Abetz would like to better understand the problems faced by transgender people, he would do much better to talk to actual transgender West Australians rather than googling the experiences of those in countries that don't even have comparable health and legal systems." Mr Hosie said.
Mr Hosie said personally he'd welcome the chance to meet with Mr Abetz to allow him to find out more about transgender people in Western Australia.
"I'd love to talk to him about the consequences of the lack of discrimination protection afforded to most transgender West Australians, the forced divorce some are faced with, and the difficulties too many of us face accessing medical treatment and obtaining the correct legal documentation." Mr Hosie told OUTinPerth.
"If however Mr Abetz insists on doing his research via the internet then I would encourage him to visit more reputable websites – I would suggest starting with the American Psychiatric or Psychological Associations, both of which state that the rate of regret amongst those who medically transition is extraordinarily low, and that assisting people to access transition is essential to their good mental and physical health.
"Mr Abetz should also read the research carefully – for example, one of the studies that Walt Heyer relies on to argue that surgical interventions are not beneficial for transgender people actually concludes "that sex reassignment of transsexual persons improves quality of life and gender dysphoria."
OIP Staff, David Morrison was contacted for comment.