Trump "can take care of himself". Stephen Colbert responds to controversy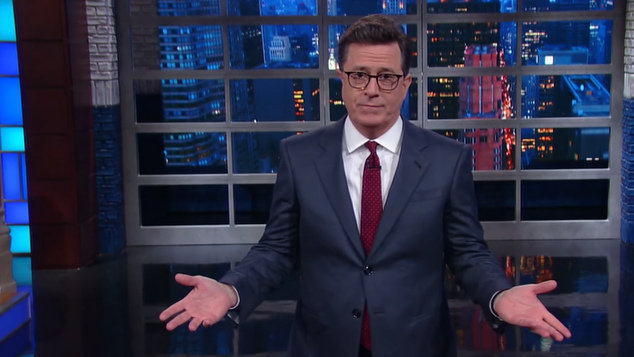 Talk show host Stephen Colbert has responded to criticism that one his recent monologues attacking US President Trump was homophobic.
Comments the comedian made spurred a #firecolbert hashtag and viewers called for boycotts on products advertising with the popular late night program.
After a few days of silence Colbert has spoken about the controversy telling his audience he had no regrets about his controversial monologue but also considered LGBT Americans to be heroes.
On the Monday night's edition of The Late Show Colbert delivered an opening monologue that focused on recent comments made by President Trump.
Highlighting a recent interview with Face the Nation host John Dickerson. The President ended the interview when he didn't like Dickerson's questions. Earlier he had described the respected journalist's program as "fake news" and labeled the show "Disgrace the Nation".
Colbert said that while Dickerson was too polite to respond, he had no problem cutting loose, he then delivered a serious of insults that included the line "The only thing your mouth is good for is being Putin's [bleeped] holster."
The monologue can be viewed below.

The comment was criticised for being homophobic.
On Wednesday night Colbert addressed the controversy.
"So at the end of that monologue I had a few choice insults for the president in return. I don't regret that. He, I believe, can take care of himself. I have jokes; he has the launch codes. So, it's a fair fight," Colbert said.
The host said many had considered his comments to be lewd and offensive, and in retrospect he could have changed a few words that were cruder than they needed to be.
"I'm not going to repeat the phrase, but I just want to say for the record, life is short, and anyone who expresses their love for another person, in their own way, is to me, an American hero. I think we can all agree on that. I hope even the president and I can agree on that. Nothing else. But, that."
Later in the show guest Jim Parsons from Big Bang Theory asked Colbert if he was feeling homophobic? "No, I'm feeling homo-feel-ic", Colbert responded.
Parsons, who is gay, said he didn't think Monday night's monologue was homophobic.
"I thought that was a very strange tag to put on the whole monologue." Parsons said.
OIP Staff