The TV reboot of 'Heathers' has disappeared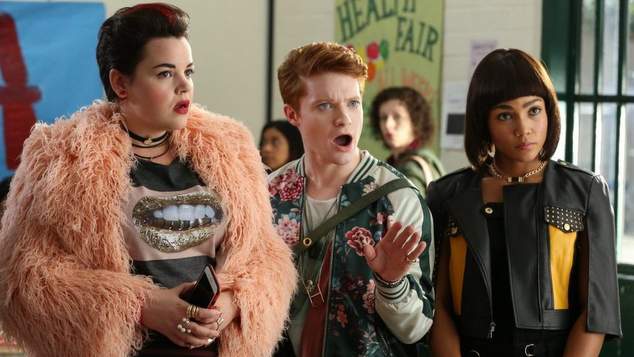 The TV reboot of cult classic Heathers doesn't look like it'll be reaching TV screens anytime in the near future.
Broadcaster Paramount has cancelled the series – before it's been aired.
The first season of the show has been filmed with ten episodes in the can, and scripts have reportedly been written for a second series. The broadcaster delayed the premiere of the show because they felt its content was inappropriate when there has been several mass shootings in US high schools.
In March the show's premiere was delayed following the Parkland shooting in Florida, and the planned release of the show in July was cancelled following a school shooting in Santa Fe.
Now it appears the network is completely dumping the show. Last week Keith Cox, Paramount Network president of development and production told The Hollywood Reporter that the network had now officially abandoned the show.
"The combination of a high school show with these very dark moments didn't feel right.
"This is a high school show, we're blowing up the school, there are guns in the school, it's a satire and there are moments of teachers having guns. It's hitting on so many hot topics." Cox said.
The original 1988 film starred Shannen Doherty, Christian Slater and Wynona Ryder and featured a clique of four popular high school girls, three who are named Heather.
The dark comedy film features the characters attempting to destroy each other's reputations before they commence on a series of murders that are made to look like suicides. As each character comes to an untimely end their popularity soars.
The new TV show had proposed a modern update with one of the Heathers being a gender-queer character, in the new version Heather Duke is played by actor Brendan Scannell. While fellow Heather, Heather McNamara tells everyone she's a lesbian, but in reality she's only saying it to appear cool.
Early reviews for the show had not been positive, with some reviewers who have seen some of the first episodes criticising it for portraying LGBTIQ people as bullies.
The show may see the light of day, Paramount are currently looking at the option of selling the show to another broadcaster such as online streaming service Netflix.
OIP Staff
---