US Supreme Court Rules in Favour of Marriage Equality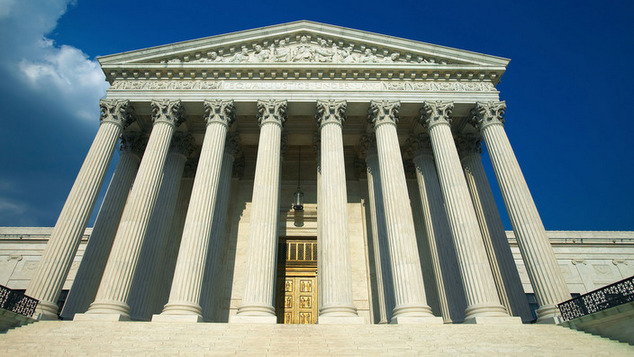 In a landmark decision the US Supreme Court has ruled that it is unconstitutional for states to ban same sex marriage.
The decision 5-4 in favour of allowing same sex couples to marry said that no matter where couples live in the USA they have a right to wed.
"The court now holds that same-sex couples may exercise the fundamental right to marry. No longer may this liberty be denied to them," Justice Anthony Kennedy wrote in the majority opinion.
"No union is more profound than marriage, for it embodies the highest ideals of love, fidelity, devotion, sacrifice, and family. In forming a marital union, two people become something greater than once they were," Justice Kennedy wrote. "As some of the petitioners in these cases demonstrate, marriage embodies a love that may endure even past death."
Justice Kennedy was joined in the opinion by the court's liberal justices Ruth Bader Ginsburg, Stephen G. Breyer, Sonia Sotomayor and Elena Kagan. The five justices voting in favour of marriage equality authored a single opinion on their decision.
All four of the court's more conservative justices voted against the decision. The four dissenting judges, Chief Justice John G. Roberts Jr. and Justices Antonin Scalia, Clarence Thomas and Samuel A. Alito Jr. have each written a separate dissenting opinion the decision.
Delivering his dissenting opinion Chief Justice John Roberts said he believed that the decision should have been made politically rather than through the courts. Justice Roberts described the issue as being stolen from the people.
"Today, however, the Court takes the extraordinary step of ordering every State to license and recognize same-sex marriage. Many people will rejoice at this decision, and I begrudge none their celebration. But for those who believe in a government of laws, not of men, the majority's approach is deeply disheartening. Supporters of same-sex marriage have achieved considerable success persuading their fellow citizens—through the democratic process—to adopt their view. That ends today. Five lawyers have closed the debate and enacted their own vision of marriage as a matter of constitutional law. Stealing this issue from the people will for many cast a cloud over same-sex marriage, making a dramatic social change that much more difficult to accept." Chief Justice Roberts said.
In making its decision the court looked into cases from Michigan, Ohio, Tennessee and Kentucky where restrictions against same sex marriages had been upheld in the last year.
The ban was challenged by 14 couples and two widowers affected by their states same sex marriage bans.
The lead plaintiff in the case was Jim Obergefell who married his partner John Arthur in 2013. Obergefell and Arthur travelled from their home in Ohio to Maryland on board a medical jet when Arthur became ill, he died a few months after their wedding. Mr Obergefell was fighting the state of Ohio to recognise him as his partners spouse on his death certificate.
Also included in the case were April DeBoer and Jayne Rowse from Detroit, Michigan. The couple are nurses and foster parents. They took to the courts after they began fostering in four special-needs newborns. The couple were unable to adopt the children they were caring for because the state requires adoptive parents to be married.
One of the cases from Tennessee involved Sgt. Ijpe Dekoe and his husband Thomas Kostura. The couple were married in New York in 2011 but when Sgt. Dekoe's job with the US military job saw them transferred to Tennessee their marriage was no longer recognised.
The ruling means that LGBTI couples in all 50 states of the USA will be able to wed. The decision has been described as the biggest changes to marriage laws in the USA since the court struck down bans on inter-racial marriages almost 50 years ago.
Fourteen states had implemented bans against same-sex marriage; Alabama, Arkansas, Georgia, Kentucky, Louisiana, Michigan, Mississippi, Missouri, Nebraska, North Dakota, Ohio, South Dakota, Tennessee and Texas.
Recent polls in the USA have shown support for marriage equality is around 60%. In 1996 polls recorded support around 27%, showing a dramatic change in public opinion in the last 20 years.