The Vaudevillians Live Up to The Hype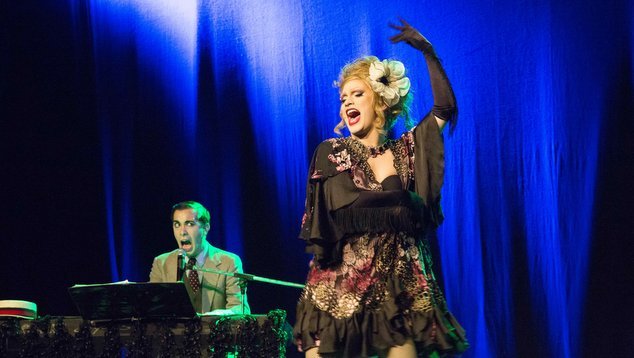 'The Vaudevillians' is another act that Perth is privileged to be getting at Fringe World, all the way from the United States, featuring Jinkx Monsoon and Major Scales. 'The Vaudevillians' offers a mix of cabaret and burlesque.
I had been given some fairly high praise regarding 'The Vaudevillians', so I was pretty excited to be seeing them this year at Fringe World. I was not disappointed.
From the moment you enter the Western Australian Spiegeltent the mood is set, the Spiegeltent is a beautiful venue and it sets the scene, along with the music playing and the beautiful chez lounge on the stage.
Kitty Witless (Jinkx Monsoon) and Dr Dan Von Dandy (Major Scales) presented a show that had a mixture of cabaret, music and comedy. The show perfectly balanced these aspects and kept the audience entertained throughout. They performed alternative takes (or as they put it, the originals) of various musical hits, including 'Girls Just Want To Have Fun' and 'Toxic'.
Major Scales was amazing on the keyboard and Jinkx Monsoon has an amazing voice with an equally amazing vocal range, and an ability to switch between singing and sound effects flawlessly. Both Jinkx Monsoon and Major Scales were fabulous entertainers, and the show also incorporated audience participation into the show, which added to the show.
I saw both entertainers post show where they maintained their alter egos and continued to engage with the crowd, by signing posters and posing for pictures.
I thoroughly enjoyed the show, and thought that Jinkx Monsoon and Major Scales both performed wonderfully. I found that some of the songs did drag on a little, and could have possibly been cut a little shorter, but that was the only flaw I found in an otherwise stellar act and performance.
The show is down as a 70 minute show, and ran true to that. I would recommend anyone who enjoys an entertaining musical show give 'The Vaudevillians' a try.
'The Vaudevillians' is on at the Western Australian Spiegeltent in the Pleasure Gardens until Friday 6th February. Tickets can be purchased from the Fringe Box Office or at www.fringeworld.com.au 
Hayley Roberts, image: Claire Alexander