Venue Owners Answer Pride After Party Complaints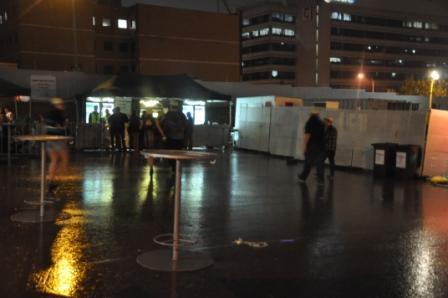 This year's Pride Parade was hit with extreme weather conditions that saw after party venues scrambling to keep the events afloat. With both The Court and Honey Lounge opening up alleyways and streets to expand parties, the torrential downpour created testing conditions that put owners, management and bar staff under unprecedented pressure.
Backlash surrounding the events has spilled online, with ticket buyers turning to Facebook pages to complain about security, alleged under-preparation for the weather forecast, and over capacity issues.
Owner of The Court Hotel, Bree Maddox and Honey Lounge Owner, Maria Katsikandarakis, spoke to OUTinPerth to answers questions posed by those that attended the events. In response to statements being made that The Court Hotel was under-prepared for rain, Maddox states that simply isn't the case –
'There are council rules and regulations that we have to operate under, putting a marquee over a whole street actually isn't feasible, we can't do it. When we saw the weather forecast and we were waiting for the thunderstorms all week and they never came. We saw the weather forecast and we rang Redbull and a bunch of other places and got as many umbrellas that we could but marquee-ing and tarpaulin the street like everyone was suggesting isn't actually an option, we would have loved to have stayed dry too!'.
The response was much the same from Katsikandarakis, who emphasised that setting up a marquee in an alleyway not only required planning permission but also cost around $3000, an attempt at tarpaulin was futile, with torrential downpour grinding live performances to a halt – 'Unfortunately Nat Ripepi played one song and that was it. Then it rained so much and Axe Girl couldn't even go on and Annabel Harvey couldn't play, it was such a shame it was going to be such a big one'.
Security complaints were also across the board, an alleged aggressive bouncer was sacked on the night of the event at the Court Hotel, whilst Katsikandarakis maintains that her security maintained professionalism – 'I was at the door at that time… he was as calm as he could be, they were literally on top of him demanding to come in. There's only so much debate you can have with someone when they've had a couple of drinks and they're demanding to come in without getting a little bit fired up'.
Despite complaints and unlucky weather conditions, Maddox stayed optimistic – 'I have had so many positive compliments, I had so many people on the night see just how hard the staff are working in the rain and we were all drenched ourselves, we all just looked at the weather forecast and thought we are not ruining Pride not for everyone, we are putting on the event, I am so proud of my team', said Maddox. Honey Lounge also overcame huge obstacles, still managing to raise an estimated $4000 for PRIDE WA in door sales alone.
Both venue owners discussed holding a second after party once weather conditions improved, although Maddox favoured the idea, the amount of planning combined with a packed out summer calendar has reduced the possibility – 'It's a very risky and time consuming event, but we will think about it, a lot of people are suggesting we do it in the summer and I'd love to but our attention is on New Years Eve'.
Nadine Walker