Victorian Liberals meet to decide Moira Deeming's future in the party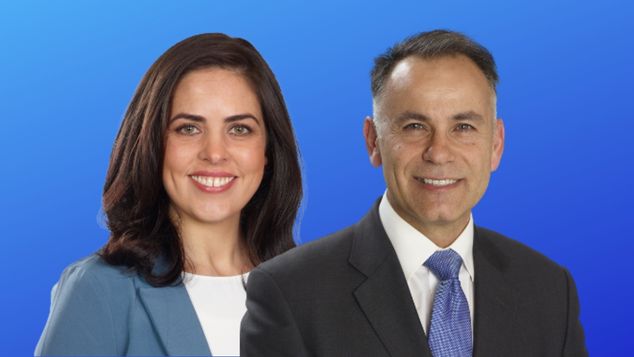 Victorian Liberal MPs will meet this morning to decide if Moira Deeming should remain in their party following her involvement in Kellie-Jay Keen's 'Let Women Speak' event in Melbourne.
Liberal leader John Pesutto is pushing for Deeming to be thrown out of the parliamentary Liberal party saying she does not represent the party's values, while Deeming has made a plea to colleagues to support her arguing that Pesutto and the leadership team's claims about her are false.
Deeming, who sits in the Upper House was a controversial candidate when she was selected prior to the 2022 election. She has a long history of campaigning against transgender people and was an outspoken opponent of the Safe Schools LGBTIQA+ anti-bullying program.
The vote is also being seen as a test of Pesutto's leadership with party insiders saying he won't survive as leader if his MPs choose to keep Deeming in the party.
The standoff was provoked by Deeming taking part in the 'Let Women Speak (LWS)' open mike event that was held in front of the Victorian Parliament last weekend. The event was part of a tour involving British activist Kellie-Jay Keen who promotes anti-transgender views. Online Keen uses the pseudonym Posie Parker.
While every stop of Keen's tour of Australia drew counter-protesters that significantly outnumber her supporters, at the Melbourne event a neo-Nazi group also attended holding a sign that read "Destroy Paedo Freaks" and the group made Nazi salutes and shouted abuse at the supporters of transgender rights.
Pesutto has argued that Deeming should have been aware of the events potential to attract far-right support given Keen's alleged history of interaction with similar groups. Keen has sensuously denied any links exist.
Deeming later condemned the presence of the neo-Nazi group, saying she was unaware that the group of black clad largely masked men were until after the event had concluded.
The MP said she condemned the protesters from transgender rights groups who infiltrated the event, but also condemned the neo-Nazi group's participation.
"I also condemn of the actions of the masked men in black who were later identified as Neo-Nazis, who gate-crashed the Let Women Speak event. Most of the LWS supporters did not realise who they were until they were being escorted out by Victoria Police, when they did the despicable Nazi salute." she said in a statement issued two days after the event.
While Deeming, Keen and other speakers at the event eventually condemned the presence of the group, it came after they appeared in a post-rally live video where there sipped champagne and Keen appeared to suggest the neo-Nazi group was not real or had been organised by Victorian police.
Deeming has arrived at parliament house for the meeting flanked by conservative MPs who support her bid to remain in the party.
OIP Staff
---
Do you need some support?
If you are struggling with anxiety or depression, support and counselling are available from:
QLife: 1800 184 527 / qlife.org.au (Webchat 3pm – midnight)
QLife are a counselling and referral service for LGBTQIA+ people.
DISCHARGED: [email protected] / discharged.org.au
Discharged is a trans-led support service with peer support groups for trans and gender diverse folks.
Lifeline: 13 11 14 / lifeline.org.au
Beyondblue: 1300 22 4636 / www.beyondblue.org.au
---

You can support our work by subscribing to our Patreon
or contributing to our GoFundMe campaign.