WA Labor accepts proposal to scrap the Gender Reassignment Board
The WA Labor party has voted in favour of a motion calling for the WA Gender Reassignment Board to be axed.
The motion was among a host of changes put forward by Labor members at the party's bi-annual conference which was held over the weekend.
Improving equality across a range of different policy areas was a theme throughout the conference, but none will have a greater affect on transgender people living in WA than the voice of support to abolish the intrusive process the state requires for people to officially change their gender.
Jonathon Mann, who is also the President of LGBTI rights organisation Rainbow Rights, put forward the motion which stated:
"WA Labor will abolish the Gender Reassignment Board and will allow transgender people to change the gender marker in their official identity papers to their preferred gender on written request and without the need for hormones and/or surgery."
The motion also called for a third new gender category known as 'X', standing for 'not specified' to be introduced into official forms and processes.
Speaking ahead of the vote on the motion Jonathon Mann told delegates at the conference that the current process used in the state needed to be abandoned and replaced with far less invasive procedure.
"The process they go through, its really a humiliating process, it genuinely is." Mann said.
"To actually change your gender is WA you have to apply to the Gender Reassignment Board. This board judges you, it judges whether you are valid or not in terms of your transition.
"In order to go through this transition process you have to be on hormones, and you also have to undertake surgery. Surgery that is expensive, surgery that is actually kind of dangerous, surgery that is expensive, and is not available in Western Australia."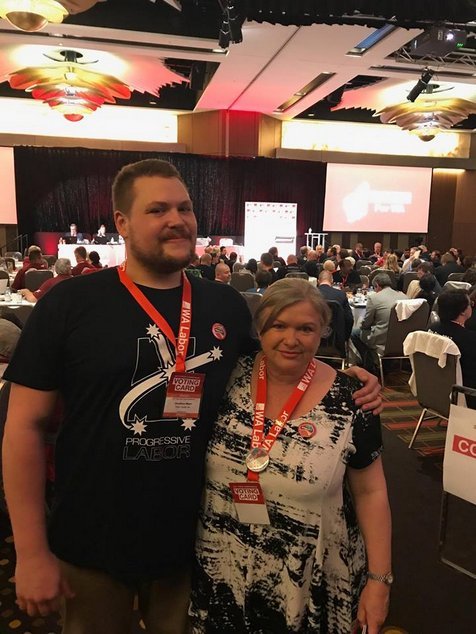 Mann said the current legislation was outdated and needed to be abolished, a statement that received enthusiastic support from the conference floor.
Katrina Montaut spoke in favour of the motion and shared the experiences of a close friend who had struggled to be recognised as a trans-man through the current process.
While her friend had managed to change many federally controlled documents to his new gender, he had not been able to change state based documents.
"He is not recognised by the state. To gain recognition in the state he has to jump over a bar that is insurmountable, and that is the bar set by the Gender Reassignment Board." Montaut said.
"He is still a woman as far as the state is seeing. He can go through immigration as a male, he can vote federally as a male, and he drives around in his banged-up ute, with his long beard, and if he gets pulled over, they'll check his licence – he's a woman."
"If Jack was here, then he would say 'Please, just let me, be me. Please let me be the man that I've always wanted to be. Please stop denying me this recognition."
There was no opposition to the motion.
The move to scrap the Gender Reassignment Board was just one of many changes given support over the weekend.
The party also made commitments to remove discriminatory language against LGBTI people from legislation, supported initiatives to make PrEP treatment more accessible and made a major commitment to supporting LGBTI focused mental health services during the federal government's marriage postal survey.
The party reaffirmed its commitment to fund anti-bullying programs such as the Safe Schools Coalition until federal funding for the programs was resumed.
A motion arguing that transgender offenders should only be incarcerated in the facility appropriate to their gender identity was supported. This included a statement affirming that transgender prisoners should continue to receive the associated healthcare they would receive if they had not been incarcerated.
A proposal to allow transgender youth under 18 to transition with parental consent, but without needing to involve the family court was passed. The party also called for the establishment of appropriate guidelines for the family court to make decisions if parental consent is withheld.
The delegates also supported a call for the government to provide extra financial support for LGBTI services to Aboriginal and Torres Strait Islander communities.
With the party voting its support for change, it will now be the McGowan Government's task to bring legislation and practice into line with the party member's wishes.
Graeme Watson
---
Support OUTinPerth
Thanks for reading OUTinPerth. We can only create LGBTIQA+ focused media with your help.
If you can help support our work, please consider assisting us through a one-off contribution to our GoFundMe campaign, or a regular contribution through our Patreon appeal.