Welcome to Wentworth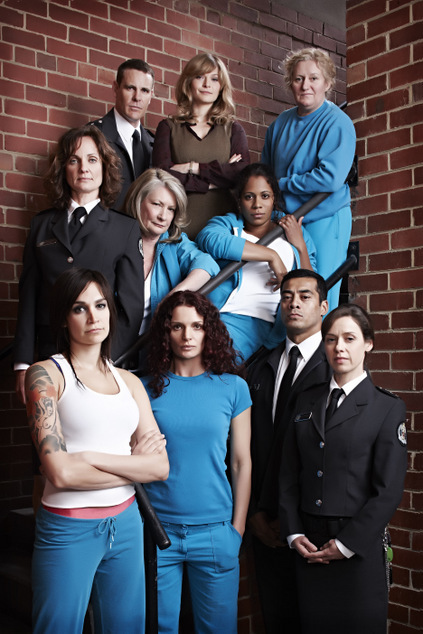 'Wentworth' is a re-imaging of one Australia's favourite television dramas. From 1979 to 1986 Channel 10's 'Prisoner' followed the lives of women detained inside the fictional Wentworth maximum security prison. Now 34 years after the original show debuted, the women of Wentworth are back in an all new re-telling of the tale.
We follow Bea Smith (Danielle Comack, Underbelly) as she enters the prison on remand. Through the first episode we are gradually shown more and more of the crime she is accused of. Bea is suddenly immersed inside the world of rules and procedures put down by the prison's guards and the unwritten rules, laid down by fellow inmates. She is thrown from the frying pan of her domestic life into the deep fryer reality of prison.
Guiding her along the way, is the friendly Lizzie Birdsworth (Celia Lane, All Saints) and motherly Doreen (Shareena Clanton), but also on the block is tough lesbian Franky Doyle (Nicole DaSilva, East West 101, Rush) who is not to be messed with. On the guards side of the story is Governor Meg Jackson (Catherine McClemments, Water Rates, Rush), her deputy Vera Bennetts (Kate Atkinson) and a team of guards, psychologists and councilors.
Things take a turn for the worse when 'top dog' Jacs Holt (Kris McQuade), the matriarch of a Melbourne crime family, is released from a long spell in solitary confinement and is not happy with the activities that Franky Doyle has been up to while she's been locked away.
Recreating a much loved classic is full of challenges. Speaking recently to Amanda Muggleton, one of the actors from the original series she admitted it will be weird for the original cast to watch a new version of the show before adding that Danielle Cormack was a brave actress for taking on the role originally played by Val Lehman, "You wouldn't want to wrath of Val Lehman coming down on you", laughed Mugggleton. Lehman herself joked to 'The Sunday Telegraph' during the shows pre-production, "F**k the cameo, I want to play the Governor."
While there is no stunt casting, or cameos from the original cast, Wentworth strikes just the right balance of being a modern, intriguing drama series set in a world similar to successful US series like 'Prison Break' and 'Oz' and respectively paying homage to its low budget Australian predecessor. If you love the original you will cherish the subtle references, if you've never seen the original – it won't matter at all. The show is gritty, sexual and tightly scripted with great dialogue.
Wentworth debuts on Foxtel's SOHO channel at 6:30pm on Wednesday June May 1 and is repeated through out the week.
Graeme Watson