It's a whale of a tale: Moby Dick is on at the Old Mill Theatre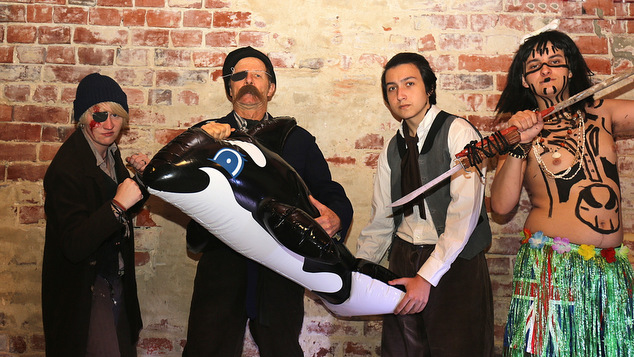 When you think of literary works that could easily be adapted into a short play, Herman Melville's classic 'Moby Dick' isn't one of the first texts that springs to mind.
Yet the 685-page novel about a large aquatic mammal is about to be delivered as a 25-minute play.
Michael Green has adapted the work from the original Herman Melville tale, and director Sarah Christiner his ready to put it on the stage as as part of the Old Mill Theatre's short play season in September.
It's the epic story of a man's obsession with vengeance against a mammoth sperm whale which previously had destroyed his ship.
But this time the telling is a little different – Green is a pioneer of a theatrical style known as "coarse acting" which is a spoof of things in theatre going wrong.
"Effectively, it's very bad theatre taken very seriously," Christiner, who also plays the scarred seamen, said.
Green's 'Moby Dick' script, while being fraught with theatrical faux pas, actually does manage to capture the essential moments and message of Melville's saga.
"The cast is comprised of people who have mostly all worked together before and I knew I could trust them to help with the collaborative process of staging this somewhat intricate production.
The production also sees Christiner taking on the challenge of performing and directing at the same time, something she's not previously attempted.
Mill Theatre's season of short plays also includes 'Widow's Peak' and 'Under The Rainbow', both written and directed by Noel O'Neill.
'Widow's Peak' is a poignant story of survival by the wives left behind when their husbands are killed during war and how they show determination through dark humour.
'Under The Rainbow' looks at what might happen if there was no hope nor courage and the Wizard of Oz and his crew were nobodies hiding in a forgotten bar beneath the multi-coloured arch.
'Moby Dick', 'Widow's Peak' and 'Under The Rainbow' play at 8pm September 7, 8, 9 and 10. All tickets are $20 – book on 9367 8719 or email [email protected]. The heritage-listed Old Mill Theatre is on the corner of Mends Street and Mill Point Road, South Perth.
OIP Staff