Bibliophile | Detective Dave Burrows returns in Without A Doubt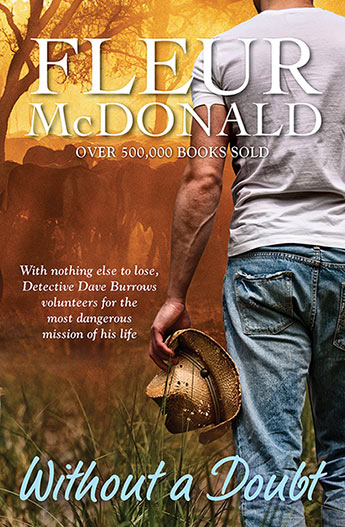 Without A Doubt
by Fleur McDonald
Allen & Unwin
Esperance farmer and writer Fleur McDonald has written a succession of books that allow her readers to get to know rural Australia much better. In Without A Doubt, she continues the adventures of Detective Dave Burrows, who has been posted to the remote country town of Barrabine with his wife and eighteen month old daughter.
After discovering an abandoned Ute at the side of the road, Burrows is faced with finding the whereabouts a man who may or may not want to be found. When a colleague finds a decomposing body on the highway, the police hope that there might be a match.
Meanwhile, cattle are going missing from the large properties and Burrows has domestic problems of his own to deal with. Having taken his wife Melinda to the middle of nowhere, she is away from family and friends while he spends all day at work. Isolation for both women and men is a huge issue in country towns and police seem to be social workers as much as law-enforcers.
Under the direction of Bulldust, the Highway Mustering Mob intermix legitimate mustering jobs with rounding up 'clearskins' or unbranded cattle from other people's properties. Bulldust controls the people who work with him through blackmail and Dave's superiors think that it would be ideal for Dave to work undercover to expose the rustlers.
It is 1999 and it takes a while for the disturbing realities for people living in isolation to emerge. The manager of one of those properties they were rounding up cattle to truck away was propping up the bar in town, "staring at the TAB screen and sipping on schooners until closing".
Melinda admits that she can't cope, even with the support that other women in the community try to provide. For men, there is the pressure to maintain the macho image and having a yarn to someone or seeking professional help about your problems is seen as embarrassing and weak.
McDonald mixes a bit of awareness into her thriller adventure. She likes to write about strong women overcoming adversity, drawing inspiration from her own experiences in rural Australia. In her latest novel she has tapped into the growing awareness that times are tough in rural areas and there's a growing amount of people in rural areas that are having difficulties coping.
Lezly Herbert
---