Zoë Ventoura shares her excitement about 'Chicago'
Zoë Ventoura is excited about landing one of the starring roles in the musical Chicago and equally thrilled that it will be opening its Australian run in her hometown Perth.
Ventoura is best known for her roles on Packed to the Rafters and Home and Away plus a string of other Australian television shows, and previously appeared in the musical We Will Rock You.
She shared her excitement about returning the world of musical theatre for this new production of the iconic show where she will follow in the footsteps of musical theatre greats such as Chita Rivera, Caroline O'Connor and Ute Lemper who have all previously played Velma Kelly.
"It's a little daunting, but also unbelievably exciting." Ventoura told OUTinPerth during the show's rehearsal period. "It feels like such a gift to be given the opportunity to create my own Velma, and that's certainly what I'm being encouraged to do."
"Everyone in the cast is being encouraged to create 'our' Chicago, and it's just been brilliant so far. I can't wait to get on stage and show everybody."
While Perth audiences often have to watch as a production travels from Melbourne to Sydney and Brisbane and sometimes even Adelaide before it heads to Perth, this time round a huge musical production is opening here in Perth first, something Ventoura is thrilled about because this is where she grew up.
"To open in Perth, which is where I grew up is just brilliant, I'm really excited." Ventoura shared.
Without doubt the musical is one of the catchiest ever made, and for those familiar with its score find its earworms are easily activated.
The longest-running show now playing on Broadway, this scorching hot masterpiece includes a glittering score that includes All That Jazz, Cell Block Tango and Razzle Dazzle.
"It's impossible to get it out of your head, but at least it's brilliant music." Ventoura said, nominating a podcast or a great Spotify playlist as her cure for Chicago overload.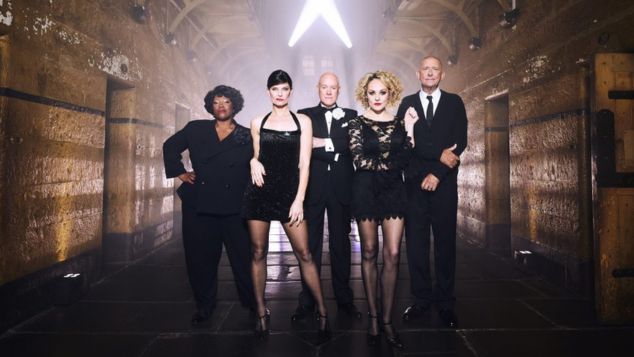 Joining Ventoura as the irreverent and determined Roxie Hart is musical theatre star Lucy Maunder, who was recently in Perth playing the role of Mrs Banks in Mary Poppins.
Maunder has shone in many musical productions including Charlie and the Chocolate Factory, Fun Home, Matilda: The Musical, Beautiful: The Carole King Musical, Grease and Pippin.
Asabi Goodman, Anthony Warlow, Peter Rowsthorn and S Valeri round out the cast for this remounting of the popular musical.
While she's found success on stage and television, Ventoura shares that she didn't hold these ambitions at the start of her career. She grew up in the world of dance, her mother is respected Australian choreographer and educator Ruth Osborne.
"Back then I wanted to be a dancer, just a company dancer." she said but noted that her Mum has been one of the people who encouraged her to explore musical theatre as career option.
Describing a career in the Australian entertainment industry as a "feast or famine" experience Zoë Ventoura wouldn't swap it for anything else, and she says she's been honured to play some iconic roles in her career admitting that people often stop her at the shops recognising her as Mel from Packed to the Rafters or Dr Alex Nielson from Home and Away. 
Ventoura laughs when I suggested she traumatised a generation when her character of Mel was tragically killed off in the third season of Packed to the Rafters. 
"I did, but it wasn't my fault. I blame those pesky writers." she cheekily declares.
The plot twist death scene was something Ventoura had to keep a secret from everybody, but the production had to rush her back to the show while they were filming her character's funeral scenes.
"When they were filming the funeral scene, I wasn't working on the show anymore, as the character had passed. But because the paparazzi had caught wind that somebody was dying on the show and they were staking out the shoot trying to work out who it was, I was rushed back."
The show's producers put Ventoura is a robe and she walked back and forth a few times so she could be captured by the cameras, a move that allowed the big secret to be maintained.
When Chicago opens in Perth this month Zoë Ventoura will be ticked an item of her 'bucket list' as she steps into the iconic role of Velma Kelly.
Don't miss out, book your tickets now. 
Graeme Watson 
---

You can support our work by subscribing to our Patreon
or contributing to our GoFundMe campaign.