Best in Show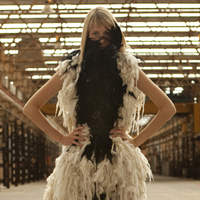 The student runway grad shows make for a heady onslaught of fashion fun come the last few weeks of November. This year delivered a bevy of brave, bold and beautiful designs, a handful of student designers rising to the surface.
The season kicked off at Curtin University's The Factory, set in the magnificent surrounds of the Midland Railway Workshops. The epic industrial feel accentuated the students works, the likes of Imogen Duxbury's nu-rave knits and Emma Young's neon acid wash dandy menswear ranges both captivating the audience and showing flawless execution in construction, fabric and feel.
Jeromy Lim stole the show with his incredible womenswear range, the apocalyptic rendered wearable through tartan overcoats trimmed with fur and baby doll dresses rendered in distressed feathery wool detail.
Curtin encourages the conceptual, nowhere more apparent than in Tayler Ainley's breathtaking transmutation of war, which merged 3D rendering with the fluidity of form and mechanical accentuation. Ainley's unique vision is to be applauded. Audacious, yes, but so necessary.
Concern, of course, is raised over the likes of Marnie Faulkner's range that incorporated cut-away sheers and balsa wood. Surely we've seen this before, all too recently in the form Daniella Caputi's work. The similarities were simply far too obvious to ignore.
Central Tafe's SHOW 2011, set centre stage at the Heath Ledger State Theatre, also brought together some incredible talent. Gautam Kapoor, who moonlights behind the bar at Connections Nightclub, was a definitive standout, his brave use of acid fake fur and hallucinogenic prints commendable and directional.
Jaxon Reibel and Justine Nobles both showcased contemporary collections that had instant market appeal. Reibel's certain yet restrained menswear was youthful and fun, his lines pushing at the edges of what defines current guy-garb. Nobles, on the other hand, demolished the architectural, placing layers of texture and disintegration atop each other with aplomb.
Emily Colalillo's all-white neoprene range was an exercise in fluidity and accent, her aesthetic delicate yet durable due to the fabrication. It had an otherworldliness to it, her screen printing peeping through organic cutaways, the overall effect winning her OUTinPerth's inaugural Award for Creativity and Innovation. Expect to see more from her in the new year!
Polytechnic West's Tales of TwentyTwo closed the grad show season, UWA's Octagon Theatre proving a most marvellous venue for parading fashion. Jessica Hogg's organic ode to autumn proved why she won PFF's recent Student Runway womenswear section. Contemporary lines converged through panels, drapery and elegant, breathtaking simplicity.
Jameen Zalfen's lullaby from across the tundra was a cohesive collection of warrior womenswear. Fur, distressed metallic leather, brilliant accessorising and a show stopping crochet gown, all rendered in ice and harvest tones, was hypnotic and accomplished.
Sam Donaldson's inspired menswear range was also accomplished, shifting from the avant to the aesthetically pleasing with ease. What can only be called a leather capped maxi tank played alongside misplaced shirts and t's, the latter printed with maps of Jack The Ripper's kill sites. To add to the London gentleman feel, Donaldson closed his range with an exquisitely tailored suit. This boy has a bright future indeed.
The big news, of course, is which students will go on to complete residencies as part of Perth Fashion Festival's The Carton program, providing three lucky designers with the opportunity to showcase runway collections as part of Student Runway 2012. Well, OUTinPerth can confirm that the three lucky student designers will be announced very shortly indeed, and that they represent an exciting breadth of expression, style and form, each of them distinct in their own design aesthetic. Keep watching our website and Facebook fan page for more details soon.
Of course, this isn't the last we'll hear from the majority of these students. The talent this year was exceptional, with some of those mentioned here already destined for great things. Guess we'll just have to wait to see what 2012 brings our way….
Scott-Patrick Mitchell
***