15 times musical artists have nailed an ABBA tune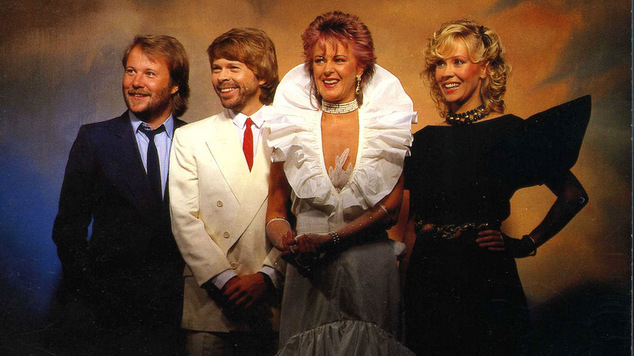 Cher is about to release her album filled with ABBA covers, here's 15 other artists who have successfully laid down their own version of an ABBA tune.
The Czars – Angel Eyes
Before he came out and morphed into the fabulous artist he is today, John Grant was the lead singer of Americana band The Czars. They included a cover of ABBA's Angel Eyes on their 2006 album Sorry I Made Your Cry. 
When Grant spoke to OUTinPerth he said is was a fluke the tune ended up on the record.
"That was more of a fluke, I was at a friends place in Paris back in 2003, I was staying in Paris, it was sort of the end of my drinking years, I was very down and out and it was a heatwave in Paris and I didn't have any money. We were talking about ABBA and my friend Tim Keegan said 'You should record that but do it in a John Grant style'"
Grant said he was obsessed with ABBA when he was a boy and bought everyone of their albums, and that obsession has stayed with him.
Bananarama – Waterloo
Bananarama's original line up of Keren, Sara and Siobhan got back together in 1998, ten years after Siobhan quit the band to form Shakespears Sister, and recorded ABBA's Waterloo for a compilation album of Eurovision hits. Last year Siobhan rejoined the group and they've been playing sell out shows across Europe and America.
Sinead O'Connor – Chiquitita
Chiquitta was the first single of ABBA's 1979 album Voulez Vouz. Twenty years later in 1999 Sinead O'Connor recorded the song for an album raising money for the victims of the Omagh bombings which killed 29 people and injured over 200.
Ash – Does Your Mother Know?
When indie band Ash were at the top of the charts in the nineties with songs like Kung Fu, Oh Yeah and Girl from Mars they often had interesting b-sides to their singles. They covered ABBA's Does Your Mother Know?   
Sylvie Vartan – On and on and on
French singing star Sylvie Vartan recorded a French language version of ABBA's On and on and on. Her version was released in 1981 just a year after ABBA debuted the track.
Will Young – Name of the Game
Will Young found fame on the first season of Pop Idol, the British series that spawned American Idol and Australia Idol.  The show's fifth round was focussed on ABBA tunes and Young chose One of Us. He went on to win the series and so far has recorded six albums of material.
Madonna – Like an Angel Passing Through My Room
Madonna and producer William Orbit recorded this ABBA album track while they were making her Music album. The recording didn't make the final cut but was later leaked online. The audio has been added to the beautiful video of guys hanging out in a  white room. The sing is the last track on ABBA's final album The Visitors. 
Erasure – Lay All Your Love on Me
Erasure recorded Gimme Gimme Gimme early in their career and then released a whole EP of ABBA covers. Here they mix their distinctive sound with ABBA's massive disco hit.
Blancmange – The Day Before You Came
ABBA released this song in 1982 on a compilation album of their singles. It was one of six songs they recorded for what would have been their ninth studio album. British band Blancmange scored a hit with their cover in 1984. It has a slight change to the lyrics, ABBA refer to novelist Marilyn French while Blancmange's version mentions Barbara Cartland.
Peter Cetera and Ronna Reeves – S.O.S
Ex Chicago lead singer Peter Cetera and country singer Ronna Reeves laid down a very radio-friendly version of S.O.S. It appears on Cetera's 1995 album One Clear Voice. Cetera produced ABBA singer Agnetha Faltskog's 1988 album I Stand Alone where the two sing a duet I Wasn't the One (Who Said Goodbye).  
Culture Club – Voulez Vouz
Boy George and Culture Club have recorded a few cover versions during their long career and in the late 90's they created a version of Voulez Vous for an ABBA tribute album and TV special.
Camera Obscura – Super Trooper
Camera Obscura hail from Glasgow, which might be the reason they were attracted to this song which mentions the Scottish city in its lyrics. They've performed the song live and released a radio sessions recording as a b-side to one of their singles.
The Wondermints – Knowing Me, Knowing You
There's something lovely about the way power pop purveyors The Wondermints incorporate an indie showgaze guitar sound into this 1970's ABBA song. Aside from releasing their own albums, the band are fotening the backing band for Beach Boys genius Brian Wilson.
Mike Oldfield – Arrival
It's not surprising that Tubular Bells creator Mike Oldield slipped this ABBA instrumental onto one of his albums, it sounds exactly like a Mike Oldfield tune. Appearing on his 1980 album QE2 it was the lead single from the album. Phil Collins played the drums on the album.
Nana Mouskouri – I Have a Dream
Greek superstar Nana Mouskouri recorded ABBA's I Have a Dream in English, but in this clip the multi-lingual singer is delivering it in French. With a recording career spanning over 6 decades Mouskouri has recorded all types of music. Check out the chat she had with OUTinPerth a few years ago.
OIP Staff
---