A Minute of Rage for Amber Maxwell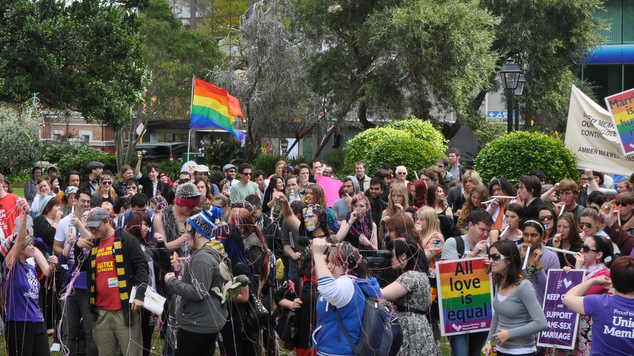 At today's Equal Love rally for Marriage Equality a 'minute of rage' was held in memory of activist Amber Maxwell.
Maxwell, who had spoken at many of the marriage equality rallies and lead the march through the city countless times, passed away last week.
Equal Love Convener Sam Cavalarro paid tribute to Maxwell saying the LGBTI community has suffered a great loss.
"The most inspiring thing about Amber Maxwell was that she was not a passive victim of the cruelties of this world, she knew she had no choice but to fight back against the sickness of this system, and did she ever fight back," said Cavallaro, "She was always the first to grab the megaphone, and the last to stop chanting, she would travel for hours so she could put up posters, sell newspapers and hand out leaflets. She was an inspiration for anyone struggling for a better world."
Cavallaro said that Maxwell would never have put up with a minute of silence at a rally, and asked people to make a loud noise in her memory.
Community member Jayne McFayden spoke about the challenges faced by transgender people and the importance of marriage equality. McFayden shared her own story, including her decision to change her gender and how this effected her partner and children. Accessing services from government departments was something that McFayden found particularly difficult.
"If they recognised me as female, then they failed to recognise our marriage," said McFayden, "If they decided to recognise our marriage, they then failed to recognise me as female."
McFayden highlighted that in order to receive a gender reassignment certificate she had no choice but to end her marriage, because the law does not currently allow married people to access the important document. McFayden described the situation as "legal discrimination".
" It is disgusting that being transsexual, in most cases, is an area where you can be legal discriminated against. In WA you must meet a specific set of criteria to be granted a gender reassignment certificate in order to be covered by the anti-discrimination legislation.
"This means it is perfectly legal to deny employment to many transsexual people based on their gender history. It is legal to deny housing and accommodation to trans people based on their gender history and this includes emergency accommodation. Schools can discriminate against their staff and students based on their gender history. Transsexual people can be discriminated against in the provision of medical and counseling services based on their gender history and there are many other areas where it is legal to discriminate against people based on their gender history."
McFayden called for an end to this form of discrimination.
Readers seeking support can contact Lifeline on 13 11 14, or Kids Helpline on 1800 551800.

OUTinPerth offers condolences to Amber's friends, family and colleagues.