Alison Xamon is running to be the Mayor of Vincent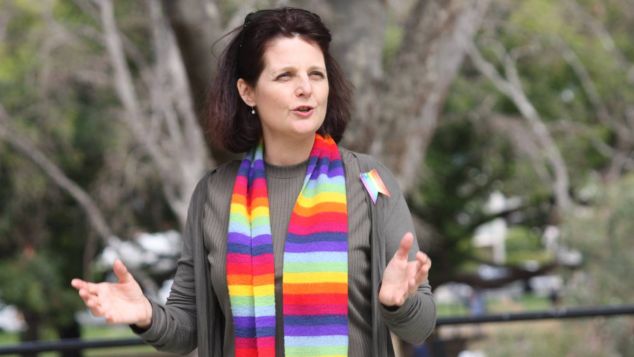 Western Australia's local government elections will take place on Saturday 21st October.
Alison Xamon is running to be the next Mayor of Vincent following the announcement that the current mayor Emma Coles will be stepping down from the role.
Xamon served in the state parliament as a member for the Greens from 2008 until 2013 and again from 2017 until 2021. Outside of parliament she has worked in the union movement, as a lawyer in the community law and social justice sectors and as an advocate for mental health.
OUTinPerth spoke to Xamon about her bid to become the next Mayor of Vincent.
Why have you put your hand up to be the Mayor of Vincent, what appeals to you about this role?
I have put my hand up because I really love where I live and I believe I have the skills, experience and drive to build Vincent into being the most sustainable, inclusive and welcoming council in WA.
I was approached and asked to consider running for Mayor when Emma Cole announced she was standing down as Mayor. I believe that Vincent has been on a solid progressive trajectory for many years now and I am keen to build on that. I most certainly don't want to see that hard work disappear.
You left the state parliament in 2021, did you miss being part of the political world?
I have missed the variety that representative roles can offer, meeting and working with so many different people in our communities, looking for those areas of shared interest and building cohesion. I also enjoy the advocacy role that working in representative roles requires.
I like looking for opportunities to improve our world, and I love the practical on the ground changes that local government can offer.
I am also keen to leverage on my relationships and expertise with State and Federal Government to tackle some of the bigger issues Vincent needs movement on such as the development of the East Perth Power Station, the protection of the Pickle District, and Beatty Park. I know I am uniquely placed to move these issues along.
What do you see as being the role of local government, is it just about roads, rates and rubbish bins or is there a wider scope? Where do you think lines should be drawn when it comes to boundaries of responsibility.
Some may hold the view that local Council is only about the 3 R's but I don't hold that view and I believe the majority of residents in Vincent don't hold that view either.
Vincent residents want to see our Council actively supporting place making, whether that be creating vibrant town centres, supporting community events, or supporting festivals and creative spaces and functions. Vincent has been at the forefront in WA of supporting entire sections of our community to have a voice, whether it is allowing civil unions to be recognised before we had marriage equality, to supporting the implementation of the Statement from the Heart.
I also believe that at local Council level you can do your part to tackle the global issues such as climate change by initiating practical local measures to reduce waste, emissions and to ensure we have built form that is fit-for-purpose in a warming climate.
We can ensure solutions around transport, accessibility and help to support initiatives to address wider problems such as isolation and homelessness.
Some previous Mayors of Vincent have returned to state politics after a time in the mayoral role. Is a return to state politics something you'd consider in the future?
Not a chance. That season of my life is complete. If I wanted to return to state politics, I would simply put my hand up, particularly as the previously flawed electoral system has now been amended.
Now I am interested in working at the local level, implementing reforms that I can practically see on a day-to-day level. The opportunities are immense and I am excited as to what could be achieved.
What do you see as the big issues on the minds of electors in Vincent?
As an inner-city Council, Vincent residents on a day-to-day basis are keen to see increased density and infill done well. There seems to be broad acceptance of the need for infill, and even the advantages, but people want to ensure that our built forms are compatible with existing homes, so not towering monoliths, but attractive builds with appropriate setbacks and plenty of tree canopy and greenery.
People want to have traffic congestion addressed along with the challenges of parking, particularly those who come to Vincent to park and then go into the CBD, not even utilising our local businesses.
But Vincent residents also want to see investment in our vibrant towns, investment in creative programs and festivals. Protection of our green spaces and dog parks. We want our community to be walkable, safe and accessible for all-people with disability, older people, people with prams. Kids need to be able to walk around our neighbourhoods safely.
What kind of mayor would you be?
Full-time, full-term. Pro-active. Hard working. Responsive. Transparent. Assertive.
You're running as an independent, but your values would still align closely with The Greens, where do you differ?
I am still a Greens member but as Mayor I am not there to represent the party and to be accountable to the party as I was in State Parliament. My values don't change but it means that I answer to the electors of Vincent, not the party.
Local Council is different to State Parliament, it is not intended to be oppositional as the Westminster system is, but run more like a Board. I am committed to working with everyone, regardless of their political affiliation, or if they have no affiliation! But I know that the one thing Vincent electors can have confidence in is that they know what I stand for. My position on any number of things is all on the public record. I am an active, progressive candidate who will be an active, progressive Mayor.
What have you heard from electors as you've been door knocking and pounding the pavements?
What I am hearing is that the things that concern me as a resident are largely shared by my community! People are generally happy with the direction that our Council has been taking and don't want us to stagnate or go backwards.
There is little appetite for a conservative regime in the Council. But they do want to see us continually move forward and to improve. It is all the challenges I mentioned earlier-placemaking, vibrancy, safety, inclusivity, sustainability.
Details of how to vote
Most local governments elections in WA will be conducted as postal elections. All enrolled electors will be mailed an election package (ballots) in the post. These should be filled out, signed and returned by reply-paid post (or hand delivered to the local government office) by 6pm Saturday 21 October.
There are however eight jurisdictions which run in-person voting. These are Broome, Cambridge, Cocos (Keeling) Islands, Cranbrook, Derby / West Kimberly, East Pilbara, Menzies, and Serpentine Jarradale.
Graeme Watson, Alison Xamon pictured at a rally for marriage equality (supplied).  
---

You can support our work by subscribing to our Patreon
or contributing to our GoFundMe campaign.