Anderson Cooper breaks down while listing victims of the Orlando tragedy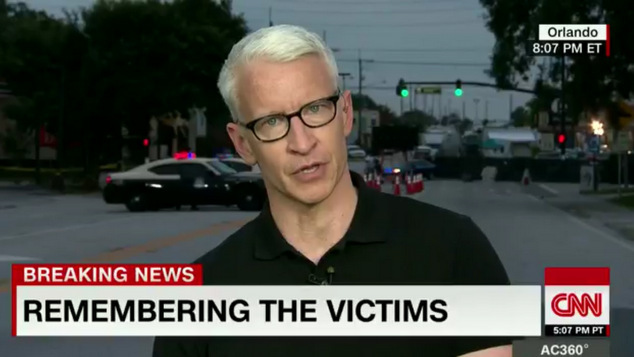 "They are more than a list of names. They are people who loved and who were loved." declared CNN host Anderson Cooper at the start of the broadcast of his AC360 program.
The veteran news anchor struggled emotionally as he shared the stories of 48 of the 49 victims of the Orlando tragedy. The 49th victim, Geraldo A. Ortiz-Jimenez, details were released after the broadcast.
"There's one person whose name you won't hear in this broadcast tonight, one picture of a person you won't see." Cooper said. "We won't say the gunman's name or show his photograph. It's been shown far too much already."
CNN has published a story which provides some details about the lives of people who were killed in the shooting. Among them was well known travel host Edward Sotomayor Jr, Martin Benitez Torres who was studying to become a Pharmacy technician,
Amanda Alvear, 25, caught the beginning of the shooting when she sending a SnapChat post to friends. The haunting clip records the loud sound of repetitive shots ringing out over the loud dance music. Sadly Alvear didn't escape.
Shane Evan Tomlinson was a singer in the band Frequency, the party band had just delivered a show at a nearby club. Eddie Jamoldroy Justice, an accountant texted his mother from the club as the shooting continued to tell her how much he loved her.
Oscar A Aracena-Montero and Simon Adrian Carrillo Fernandez had just bought a home together. While nineteen year old Jason Benjamin Josaphat, the youngest victim, was a student, while Deonka Deidra Drayton, whose family called her Dee Dee, was a bar tender at Pulse.
The stories of the different lives destroyed by an act of violence will continue to resonate as we find out more about the people who lives have been lost.
To read more about the victims and their families head to the New York Times, who also have a detailed report.
A candle light vigil is being held in the Perth Cultural Centre at 6:30pm on Wednesday evening.
---
Do you need some support?
If you  are struggling with anxiety or depression, support and counseling are available from:
Lifeline: 13 11 14
Beyondblue: and www.beyondblue.org.au
QLife: and www.qlife.org.au QLife are a counselling and referral service for Lesbian, Gay, Bisexual, Transgender and Intersex (LGBTI) people.
Kids Helpline is available for younger readers.  Call 1800 55 1800, it's free.
---