Andrew Rannells' first crush was Maxwell Caulfield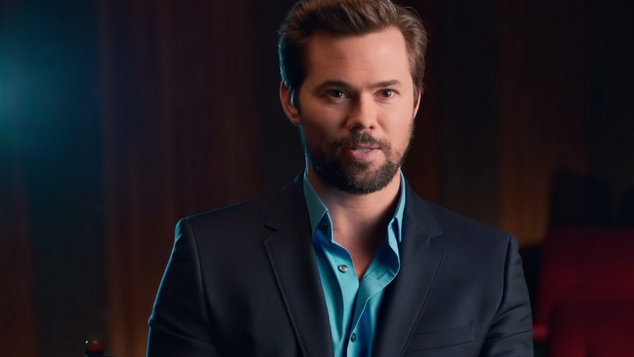 Who was your first celebrity crush?
'Girls' star Andrew Rannells has revealed that actor Maxwell Caufield was his first crush.
Rannells shared the revelation in a new video series 'It Got Better'.
The project is a collaboration between the the US based 'It Gets Better' project and Lisa Kudrow and Dan Bucatinsky's Is Or Isn't Entertainment. The series is hosted by Lexus owned broadband channel L'Studio.com
"I had a realisation, I won't even say different, because I think it was a very basic child like attraction to certain people." Rannells shares in a preview of his interview for the project.
"The earlier memory I have of that is watching 'Grease 2' and being strangely drawn to Maxwell Caufield." Rannels shared.
What the clip below.
Caufield stared alongside Michelle Pfeiffer in the follow up to John Travolta and Olivia Newton-John's smash hit film. Released in 1982 it's acknowledged as one of the most unssuccessful sequals ever.  Caufield went on to star in a bunch of '80s movies including 'Electric Dreams' and also appeared on the TV shows 'Dynasty' and its spin-off ;The Colbys'.
Caufield, now 55,  is currently in Australia appearing in the theatrical production 'Legends' alongside his wife Juliet Mills and her sister Hayley Mills.  The show will open in Perth at His Majesty's Theatre on August 2nd.
As for Rannels (who surprisingly is 36), he's just finished a stint on Broadway playing the lead in 'Hedwig and the Angry Inch'. He'll be back in season 4 of 'Girls' in 2016 paying Hannah's gay ex-boyfriend Elijah.
OIP Staff