'Assassins' – Black Swan deliver a perfect slice Sondheim's magic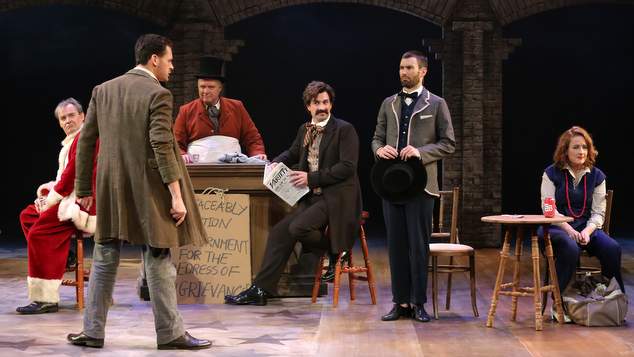 Assassins | State Theatre Centre | Until 1st July | ★ ★ ★ ★ ★ 
Assassins is on one level a challenging work for an Australian audience. When the writer behind A Little Night Music, Into the Woods and Sunday in the Park with George sat down to create this clever and theatrical march through American history – an audience in Western Australia was probably not at the forefront of his mind.
Sondheim explores America's fascination with guns and violence through a slice of American history, this is a musical about all the people who have attempted, and in some cases succeeded, to assassinate an American President.
You may be familiar with John Wilkes Booth, the man who shot Abraham Lincoln, and more recent felons including Lee Harvey Oswald and John Hinckley, but less familiar – unless you're a US history buff – are the stories of Sarah Jane Moore, Lynette 'Squeaky' Fromme, Leon Czolgosz, Samuel Byck or others.
The musical starts with a fairground and a the proprietor of a shooting range encourages passing men to pick up a pistol and "kill a president".
He welcomes Guiseppe Zangara who goes to to attempt to assassinate President-Elect Roosevelt in 1933, and Charles Guiteau who took aim at President James Garfield, he's surprised when the young Lynette 'Squeaky' Fromme appears, she'd go on to target Gerald Ford and he's even more surprised when housewife Sarah Jane Moore appears – another would-be assassin of Ford.
As so begins a journey through American history, from a very unusual perspective – all set to songs and very dark comedy.
It was a joy to see Luke Hewitt treading the boards again, he sets the scene as the Proprietor of the shooting gallery and delivers a perfect moment as President Gerald Ford. Will O'Mahony is fabulous as Guiteau, taking on a role so very different to what we saw him perform in Hir just a few weeks ago.
Geoff Kelso is having the time of his life as Samuel Byck, the Santa Suit clad assassin who picked The White House and protested against Richard Nixon.
Caitlin Beresford-Ord is brilliant as Sarah Jane Morre, delivering some of the most comedic moments of the show, while MacKenzie Dunn cements her place as the most intriguing new performer to hit the professional stage this year. Dunn's depiction of Charles Manson devotee Lynette 'Squeaky' Fromme is devilishly delightful.
Nick Eynaud transforms into the moody and obsessive John Hinckley, his duet with 'Squeaky' is one of the shows highlights. Finn Alexander is captivating as 'The Balladeer' who guides us through the decades of history.
Through the musical Sondheim's tunes meld to the era of the action, giving us a subtle history lesson in the development of American music. His style is unmistakable, and it's worth listening to every clever and contorted word.
Assassins is at the State Theatre Centre until July 1st. Tickets and more information available from bsstc.com.au
---