Australian Christian Lobby welcomes supporter with a history of vilification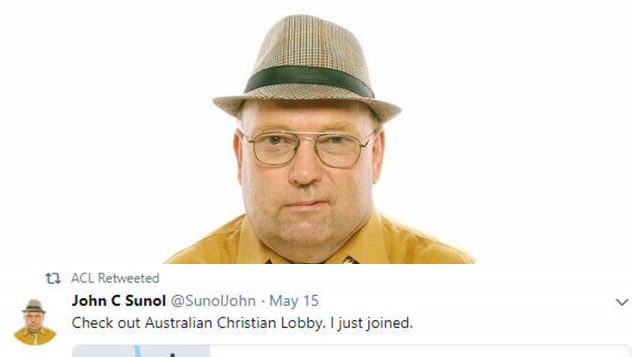 John Christopher Sunol has never held back on his views about LGBTI people. The former taxi driver has been found to have vilified and victimised homosexual people on several occasions.
This week the blogger posted to his Twitter account news that he joined the Australian Christian Lobby. The ACL highlighted Sunol joining the organisation, retweeting his post to all their Twitter followers.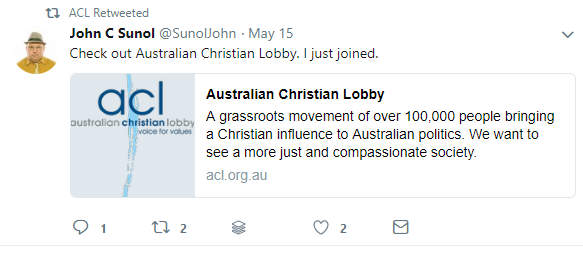 In 2014 the New South Wales Civil and Administrative Tribunal ordered Sunol to remove posts from his website and apologise for their content.
The posts related to the Sydney Gay and Lesbian Mardi Gras, and comments made about NSW gay rights activist Gary Burns. Sunol claimed that the Sydney Gay and Lesbian Mardi Gras involved people sexually assaulting children. He also had findings made against him in 2006 and 2012.
The former taxi driver lost his licence to operate a taxi after 17 complaints were made against him. NSW Road and Maritime Services investigated and found he made a number of inflammatory comments about gay people and Muslims when undercover officers caught his cab.  On that occasion the New South Wales Civil and Administrative Tribunal said he was not a person of 'good repute' and upheld the decision to remove his taxi drivers licence.
Earlier this year a Senior Commissioner at the ACT Civil and Administrative Tribunal described comments on Sunol's blog page as "archetypal hate speech".
Sunol was ordered to take down content from his multiple websites that related to Canberra man David Bottrill. Botterill complained to the ACT Human Rights Commission that he had been discriminated against because of his membership of a lesser known religion, the Ordo Templi Orientis.
The blogger had described the organisation as a "satanic paedophile cult" alongside a photograph of Bottrill. Phrases including  "child rape" and "boy murder" were used to describe Bottrill and followers of Ordo Templi Orientis.
Recent posts on Sunol's blog site from 22nd May describe homosexuality and same sex marriage as "evil" and describe LGBTI rights lobbyists as "Satan's army of helpers."
OUTinPerth asked the Australian Christian Lobby why they had decided to highlight Sunol joining the organisation, if they had any concern about his previous comments, and would they like more people like John Christopher Sunol to join the organisation?
A spokesperson responded saying they hoped "many more people would join the Australian Christian Lobby."
Long standing Western Australian based LGBTI rights advocate Brian Greig said it was disappointing that the lobby group was not concerned about views like those held by Sunol.
"The fact that they attract someone with extremely homophobic views says more about them than it does about him." Greig said.
A spokesperson for activist group just.equal said the Australian Christian Lobby had "sunk to a new low".
"The Australian Christian Lobby has sunk to a new low skiting on social media about having a member who has relentlessly vilified the LGBTI community.
"This exposes the hollowness of the ACL's rhetoric about being 'respectful' and confirms it is actually a hate group."
"In the ACL's eyes Mt Sunol is a martyr to political correctness, but in reality he is the one persecuting other people, especially those vulnerable young LGBTI people who take his hate to heart." the spokesperson said.
Sunol told OUTinPerth he had joined the Australian Christian Lobby because of his combined interest in religion and politics.
"I agree with them fully, one hundred percent." Sunol said of the ACL, "I've met their members before, I've been a part of Fred Nile's group, a different group but I was part of it, and I've stood for local government myself in the past."
"I've studied all the literature that delves into sexuality and same sex marriage at University in 1980's and 1990's, I know the full situation." Sundol said.
The controversial blogger said he was involved in a Pentecostal church and the Australian Christian Lobby represented his values.
Sunol said he did not think the comments he makes about LGBTI people were offensive.
"I understand that some people might find them offensive, but I don't think they're offensive."
"I don't show offence to anyone in my own mind. A lot of people get offended and take offence, but that's their choice." Sunol said before declaring he had no intention to stop voicing his views.
Graeme Watson
---