Bibliophile: Becoming Nicole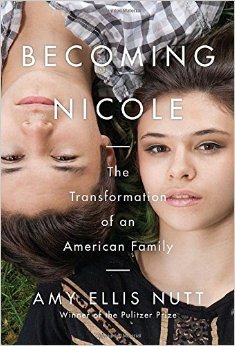 Becoming Nicole
by Amy Ellis Nutt
Atlantic Books
Identical twins, Jonas and Wyatt, were adopted at birth by American couple Wayne and Kelly Maines. While they looked the same, their different personalities soon emerged. Two year-old Wyatt loved dancing in front of the mirrored oven door in a sequined pink tutu while Jonas preferred playing with toy trucks.
Quite a lot of young boys probably prefer Barbie to Power Rangers but Wyatt's father became concerned when Wyatt not only loved sparkly clothes and dolls, but wanted to know when he was going to become a girl. It was a shock for him to hear his young son say that he hated his penis.
Wyatt's mother began to search the internet for information and found out that children can be as young as two years old to express dissatisfaction with their gender but both parents thought that Wyatt might outgrow wanting to be Disney's Little Mermaid.
When Wyatt continued to see himself as a boy-girl, his mother tried to accommodate his wishes. Wyatt was allowed to have pink backpack and pink sneakers when he started school, and was allowed to wear hand-me-down dresses around the home. Difficulties arose when Wyatt wanted to use female pronoun, wear girls' clothes to school and be able to use the girls' bathroom at school.
Pulitzer Prize winner Amy Ellis Nutt writes about Wyatt's journey to become Nicole, the ramifications it had for the whole family and the discrimination battle that made it to the State Supreme Court. Although it took longer for the father to come to terms with having a transgender daughter, he was always fully committed to making sure both his children were safe and having their needs met.
Apart from documenting the transformation of this American family, Nutt writes extensively about sexual variants and sexual dysphoria, providing a glossary for understanding sex, gender and sexual orientation. She also includes stories of other transgender children.
Nicole and Jonah are at university now and things have improved for transgender children (in America at least), there is still much to be learnt from Nicole's story.
Lezly Herbert
Read more book reviews in our Bibliophile section