Bernard Gaynor: Out of the Army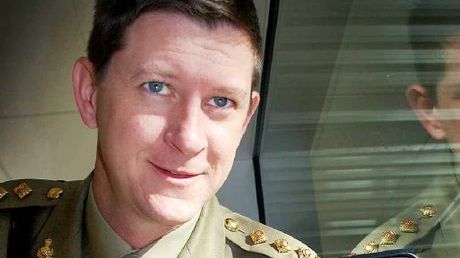 Bernard Gaynor, the outspoken conservative commentator who believes that homosexuality should be re-criminalised in Australia, has been given his marching orders from the Australian Defense Force.
On his last day in his position as Chief of the Australian Defense Forces, Major General David Hurley terminated Major Gaynor's commission.
Major Gaynor rose to prominence when he stood for federal parliament representing the Katter's Australia party. He left the party following controversy over comments he made arguing that parents had a right to know if their children's teachers were gay.
Subsequently Gaynor has become an outspoken critic of the army arguing that it should not allow personnel to appear at the Sydney Gay and Lesbian Mardi Gras because it is a political event and offensive to Catholics. Gaynor has also publicly criticised the army's support of transgender service personal and has had a long running feud with the Army Chief's speechwriter Lieutenant Colonel Cate McGregor.
On his blog, the Army reservist frequently shares his extremely conservative views regarding religion, Australian politics and he has published criticism of the army's leadership. Gaynor has said that the leadership of the Australian Defense Forces lack "moral courage" and capitulate to extremist Islam, he has also accused Chief of Army Lieutenant General Morrison of being "a slave of Islam" and labeled him a "coward".
Earlier this year Gaynor told OUTinPerth that he believed homosexuality should be made illegal and public displays of homosexulity should result in a fine. He also argued that homosexuality should not be protected under Australia's anti-discrimination laws and it prevent people from voicing their opposition to something which they see as an immoral vice.
Gaynor has indicated that he will seek further legal advice over the termination of his commission but has labeled the decision an attack on Chrisitian's who serve in the army. Gaynor has described the army as being "corrupt from the top".
OIP Staff