Bette Midler's New Album is Super Girly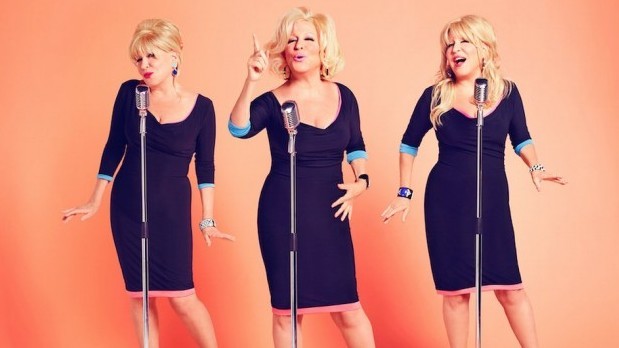 Bette Midler has announced the release of her first studio album in eight years, and she's going back to her roots to pay tribute to artists that influenced her in her early years.
The album, entitled 'It's The Girls' features the Divine Miss M singing the songs of some of the worlds' best renowned girl groups.
Midler told Billboard she'd be singing a wide variety of works from forgotten legends of the 1960s to 90s icons.
"The '60s were the height of girl-group frenzy, so there were a lot of songs to chose from, but from the '90s on, my favorites were TLC and Destiny's Child. 'Waterfalls' was a heartbreaker, especially if you were a mom, and it had a big effect on me. I never thought I would have the nerve to sing it, but we had an idea for it that works, and I am so glad I took the chance."
The track listing for 'It's The Girls' is as follows:
1. "Be My Baby" Originally performed by The Ronettes

2. "One Fine Day" Originally performed by The Chiffons

3. "Bei Mir Bist Du Schön" Originally performed by The Andrews Sisters

4. "Baby It's You" Originally performed by The Shirelles

5. "Tell Him" Originally performed by The Exciters

6. "He's Sure The Boy I Love" (duet with Darlene Love) Originally performed by The Crystals

7. "Mr. Sandman" Originally performed by The Chordettes

8. "Come And Get These Memories" Originally performed by Martha & The Vandellas

9. "Too Many Fish In The Sea" Originally performed by The Marvelettes

10. "Teach Me Tonight" Originally performed by The DeCastro Sisters

11. "Waterfalls" Originally performed by TLC

12. "You Can't Hurry Love" Originally performed by The Supremes

13. "Give Him A Great Big Kiss" Originally performed by The Shangri-Las

14. "Will You Still Love Me Tomorrow" Originally performed by The Shirelles

15. "It's The Girl" Originally performed by The Boswell Sisters