Bibliophile | 'Future Histories' explores how the past informs our digital future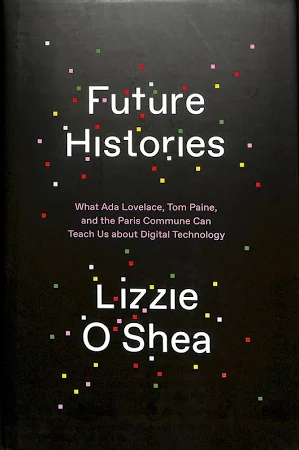 Future Histories
by Lizzie O'Shea
Verso
Lawyer Lizzie O'Shea is interested in digital technology, corporate responsibility and human rights. She wants to start conversations about how certain histories are critical to planning for our digital future. Her intention is to look at what is worthwhile about digital technology and how it can be used to enable humans to flourish.
O'Shea wants her writing to be a bridge between makers, activists and critical thinkers for a technological democracy, picking up on Mark Zuckerberg's comment in the early days of Facebook – "When you give everyone a voice and give people power, the system usually ends up in a really good place."
Having said that, she spends a considerable amount of the book concentrating on "capitalism's death drive" and how it has radically transformed our society so that the internet is increasingly being defined by our consumption. "Surveillance capitalism uses our desire for convenience and connection as bait to draw us into its platforms" … and clogs up our minds.
O'Shea is concerned about the increasingly oppressive ways technology is compromising privacy under the guise of providing safety. She would like to see a shift away from technology being used to control to it being used to address "social harms and tackle problems that lead to violence".
Reminding us that Facebook and Google are not public service providers but businesses that make most of their money from advertising, she sees surveillance technology as being used by people who exploit information for financial reward – in other words, the technological optimization of capitalism.
Creating a future of increased commodification and exploitation affects the more vulnerable section of the population and O'Shea argues that in order to look forwards, we need to look backwards. It's not a new concept to suggest restructuring society so that it not market-place driven but gives people "genuine environmental and social control over their lives".
Karl Marx had similar hopes for the future but we are getting further and further away from the more socialist ideals, and this is particularly noticeable in the current political climate. Australian Greens senator Scott Ludlam certainly feels that O'Shea has a compelling argument that a better world is there for the taking in our digitally saturated society.
Lezly Herbert
---