Billy Bragg says allies should join protests against Kellie-Jay Keen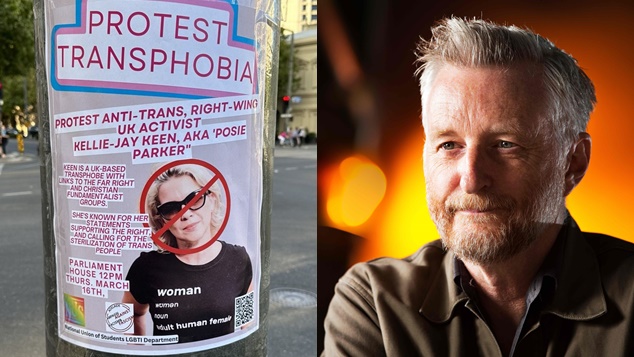 English musician Billy Bragg has called on LGBTIQA+ allies to join protests against Kellie-Jay Keen who will begin touring Australia later this week.
Trigger Warning: This story has comments which might be distressing to some readers. For 24-hour crisis support and suicide prevention call Lifeline on 13 11 14. For Australia-wide LGBTQI peer support call QLife on 1800 184 527 or webchat.
Bragg, who is on his own tour across the country, said he was appalled to discover Keen was coming to Australia saying her presence would stir up division in Australian society.
Posting to his Twitter account Bragg shared a poster for an upcoming counter-protest and added his comments encouraging people to be allies and attend.
"Just blown into Adelaide for 3 shows at the Gov. Appalled to find UK anti-trans activist Kellie-Jay Keen is coming to SA to stir up division. Not only anti-trans, she also accepts support from US anti-abortionists. Be a trans ally – protest her presence!" Bragg said in his post.
Keen,who appears online using the moniker Posie Parker, is a self-described women's rights campaigner who argues that transgender people should not be allowed in single-sex spaces, and that transgender youth should not be able to access medical treatments.
In recent months Keen has toured both the United States and the United Kingdom holding a series of town square rallies under the banner 'Let Women Speak'. There have been incidents of violence at many of her public appearances, but she has maintained they are usually started by her opponents, not her supporters.
Bragg first rose to fame in the early 1980s with his unique blend of folk, punk, and protest music. His songs often deal with political and social issues such as workers' rights, nationalism, and racism.
In recent years he has adjusted his song Sexuality to voice support for transgender and non-binary recognition.
Keen's Australian tour will begin on Sydney, a week after the end of the World Pride celebrations. Keen posted to Twitter recently, saying "after the rainbows we'll bring the storm."
After appearing in Sydney on 11th March, she will visit Brisbane the following day and will then head west to Perth for an appearance on 14th March at Parliament House.
She'll then travel to Adelaide for an appearance on 16th March, and then will follow up with an appearance in Melbourne on 18th of March, Hobart on 21st March, and finally a Canberra appearance on 23rd March. Keen will then head to New Zealand for appearance in Auckland and Christchurch.
Local transgender advocacy and support group TransFolk of WA previously responded to the tour announcement.
"TransFolk of WA supports the broad scientific support and the lived experiences of trans and gender diverse individuals.
"Not everyone may agree with that, but the difference is that TransFolk of WA is committed to and works towards ensuring our communities are valued and supported.
"We hope that individuals who choose to spread violent rhetoric will focus on assisting their own communities instead of damaging others." a spokesperson for the organisation told OUTinPerth.
"In a time where trans and gender-diverse West Australians should be celebrating recent community wins on the abolishment of the Gender Reassignment Board and updates to the Equal Opportunity Act, events like this continue to cause real harm to our already vulnerable community.
"Trans women are women, and we will continue to advocate for our community to ensure their safety and acceptance." TransFolk of WA's spokesperson said.
British report highlights Keen as a factor in growing far right extremism
An annual 'State of Hate' report from Hope Against Hate released earlier this week notes far right extremism is growing in the United Kingdom, and the report highlights the campaigns of Kellie-Jay Keen.
The report says Keen is "a leading voice in the anti-trans movement in the UK, and has been praised by the far right. She has increasingly found support from and an overlap in views with the far right, which has also increasingly focused on trans people."
A speaker who quoted Nazi leader Adolf Hitler at a recent event held by Keen is also highlighted.
The report outlines that reflecting trends in the US, there has also been "a noticeable uptick of anti-LGBT+, and in particular anti-trans, prejudice among the conspiratorial milieu."
"The so-called "trans agenda" is perceived as a means for brainwashing populations and encouraging "unnatural" treatments, but also for the "grooming" of children, echoing persistent homophobic and transphobic tropes.
"In the UK, longstanding conspiracy theories revolve around the alleged mass abuse of children at the hands of a secret, elite Satanic cabal, tropes that have been revitalised via the spread of QAnon. Such notions bleed into far-right conspiracy theories alleging a plot to corrupt society through progressive causes, in part by "sexualising" children and supposedly normalising paedophilia.
"This shift was most visible in the vitriolic campaign against Drag Queen Story Hour. This campaign has been a major point of focus for UK conspiracy." the report says.
OIP Staff
---
Do you need some support?
If you are struggling with anxiety or depression, support and counselling are available from:
QLife: 1800 184 527 / qlife.org.au (Webchat 3pm – midnight)
QLife are a counselling and referral service for LGBTQIA+ people.
DISCHARGED: [email protected] / discharged.org.au
Discharged is a trans-led support service with peer support groups for trans and gender diverse folks.
Lifeline: 13 11 14 / lifeline.org.au
Beyondblue: 1300 22 4636 / www.beyondblue.org.au
---

You can support our work by subscribing to our Patreon
or contributing to our GoFundMe campaign.