Book Reviews – December 2011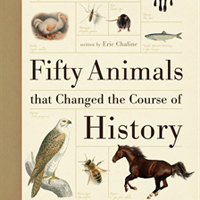 Fifty Animals That Changed The Course of History
by Eric Chaline
Allen and Unwin
List five animals that you think have changed the course of history. Does your list include the wolf, which was the first animal to be domesticated by humans? These animals were selectively bred to create the range of domestic dogs we have today. What about the horse that originally provided meat, milk and hides before humans discovered you could ride them? I bet you didn't think of the silkworm that was responsible for a cloth that set the rich apart from the poor and was the basis for opening up trade with distant countries, with The Silk Road between China and Rome is considered to be the first superhighway. The rat, malarial mosquito or flea should rate a mention because they have been responsible for worldwide pandemics. And what about the dodo, which stands as a monument to the destructive power of humans who drove the species to extinction? Find out more about these and 45 other animals that have had enormous impacts on world history.
***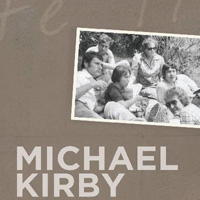 A Private Life: fragments, memories, friends
by Michael Kirby
Allen & Unwin
Michael Kirby was only 35 when he became a High Court Judge, but he had to keep his personal life hidden for a quarter of a century before announcing to the world that he was gay. Two biographies have already been written about Australia's longest serving High Court Judge but now he shares more private incidents that have shaped his life. He remembers, as a nine year-old, he received a copy of the Universal Declaration of Human Rights that still influences his work.
Being gay and studying law when 'penal servitude' for 'unnatural offences' was the law of the land made him very aware of discrimination and the need for change. Kirby pays tribute to his teachers and enlightened authors such as Kinsey and Wolfenden, whose works had major impacts on law reform. He also pays tribute to his partner of 42 years and tells how their relationship has 'outshone the shame, the silence and the fear'.
He shares lighter moments, such as his youthful infatuation with Jimmy Dean. Dedicating his life to removing discrimination because of sexuality, he shares insights from his travels around the world to spread messages of law reform for homosexual people and the need for education to stop the spread of HIV/AIDS. His jottings make for a truly inspirational read.
***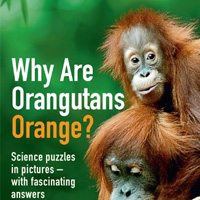 Why Are Orangutans Orange?
Edited by Mick O'Hare
Profile Books
Mick O'Hare is the production editor of the magazine New Scientist, which has been published since 1956. Filled with photographs taken by everyday people, this book collates answers to people's queries about our natural world that have been published in the New Scientist magazine.
Celebrating nature's complexity, questions about animals include why tigers have stripes, whether there is life on Uluru and if frogs will try to mate with fish. You can see that this will keep that hard-to-buy-for-person occupied for hours on Xmas day! There are questions on the behaviour of ice, bubbles, liquids and clouds.
Fascinating answers are given by experts around the world as well as people such as John Chapman from North Perth. Mysteries about curious things found in the kitchen and garden are explained and insights into Klingon technology will make the reader an expert at any festive dinner party.
Lezly Herbert
Click on the image below to visit more stories from our BIBLIOPHILE collection.