Courtney Act: Genderqueen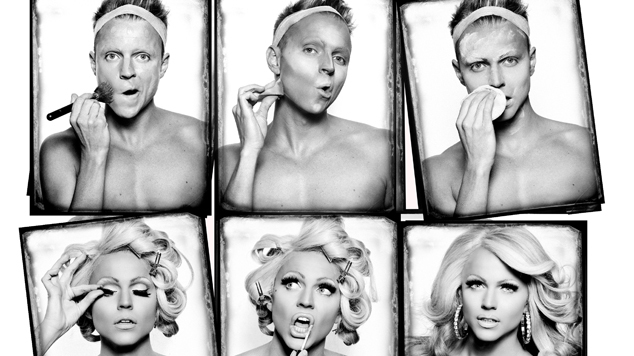 Shane Jenek – better known by the pseudonym Courtney Act – is incredibly busy. Speaking to me from Provincetown, a gay haven on the east coast of Boston, as she wraps up her first day off in over a month by speaking to media from her hotel room.
Elated that she was able to spend some time riding her bike around P-town, Act is excited to discuss her latest musical project, 'Kaleidoscope'.
"Kaleidoscope was actually the theme at Mardi Gras a couple of years ago and I remember at the time thinking 'That's such a good theme!'" she remembers, "It felt really all-inclusive to me. The gay rainbow I love, but it feels like it's limited to the L-G-B-T-Q. There's something cool about a kaleidoscope because there's all these different factors and colours and there's no real uniformity but all of it comes together to create this one beautiful image."
An ever-growing force on the music scene, Act collaborated with Sam Sparro and Jake Shears on her latest venture.

"Jake, Sam and I worked together on 'Body Parts' which is one of my favourite tracks. I remember talking to [Jake] one night, working on an idea for the album and I was trying to work out a subtle way to bring up in conversation 'Hey, do you want to write a song with me?'", she laughs while attempting Shears' accent, "He was like, 'I've got this song I wrote for Kylie but it's too Kylie for Kylie and I think you'd do really great…' we didn't end up putting that one on the album actually, but we all sat down and wrote something together."
Though Act is now recognisable internationally as a runner-up on season 6 of 'RuPaul's Drag Race', Courtney made her mark on Australian culture during the first season of 'Australian Idol'. One of our most iconic drag performers, Courtney now identifies as genderqueer as a better way of understanding herself, which she explores in her single 'Body Parts'
"I remember having this conversation with Chaz Bono about gender, I hadn't really confronted the idea about gender diversity," she says, "I had this ah-ha moment. Someone on Reddit had written; 'Maybe Courtney's genderqueer but doesn't know how to articulate it'… I didn't believe gender existed and I thought I was above it but Chaz pointed out that it was just a fact of our society but perhaps gender existed on a spectrum and I sort of realised I was probably closer to the middle than most."
The EP is stacked with kaleidoscopic bangers that were custom-made for gay venues. 'Ecstasy' is full of sticky electronic vibes that drag you onto the dance floor, with a killer video to boot. Kaleidoscope is surely Mx Act's most exciting release to date.
Leigh Hill
Kaleidoscope EP is available now on iTunes.