Vic Premier Daniel Andrews urges PM to remove plebiscite 'hurdle'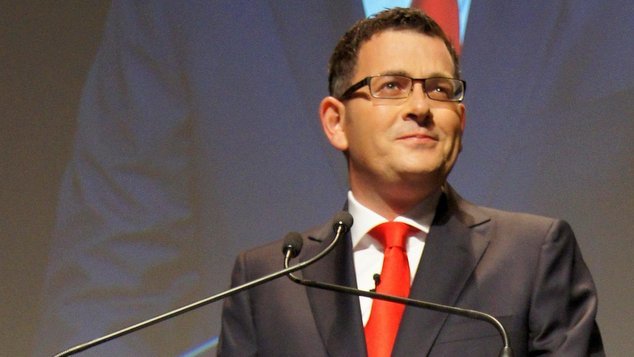 Victorian Premier Daniel Andrews has written a powerful letter to Prime Minister Malcolm Turnbull, urging him to avoid a costly, divisive plebiscite on marriage equality in favour of a free vote in Parliament.
There has been much uncertainty surrounding the proposed plebiscite, with public support for the vote dropping since the Federal Election. Labor, The Greens and the Nick Xenophon Team have all voiced support for a Parliamentary vote over a plebiscite, which could see plebiscite legislation blocked in the upper house, and some conservative MPs suggested they would vote against changes to the Marriage Act regardless of the plebiscite's outcome. The Prime Minister himself has also suggested the vote could be pushed back to 2017.
Premier Andrews dismisses the $160 million plebiscite as "the nation's most expensive opinion poll."
"This plebiscite will hurt people. It will legitimise a hateful debate which will subject LGBTI Australians to publicly funded slurs and denigration, further alienating a proud community who have fought so hard against prejudice for so long," Andrews wrote.
The missive from Andrews is addressed to "Malcolm", rather than the official title of Prime Minister. Andrews reminds the PM they have been fortunate to share the privilege of marrying the people they love.
"At the time I did not consider it unusual that I should  have the legal right to marry Catherine. I realise now how precious that right is, because I'm witnessing so many people forced to fight just to be allowed to do what I did – marry they person they love."
"In Victoria, equality is not negotiable. On behalf of my state, I urge you to accept there is no need for a costly and divisie plebiscite and agree to produce a bipartisan Bill to amend the Marriage Act within the next 100 days."
Andrews asks the Prime Minister to stand up to those in the Coalition party room who do not represent a fair and modern country.
"Marriage equality means so much to so many people. On the cusp of its realisation, it is wrong for you to impose one last hurdle – one final insult."
Attourney General George Brandis appeared on Insiders last week, explaining how he foresaw the plebiscite would operate. Senator Brandis said he said the question in the plebiscite should be as simple as possible, telling the ABC that a plebiscite was "the only way forward".
OIP Staff
Sources