Equality Tasmania worried about Kellie-Jay Keen appearance in Hobart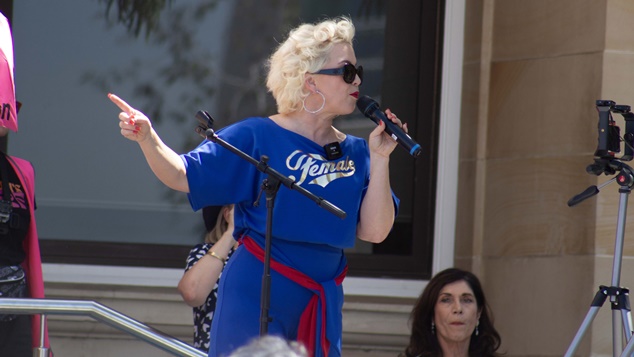 Equality Tasmania say they are deeply concerned about an anti-transgender activist, Kellie-Jay Keen speaking on Parliament Lawns in Hobart on Tuesday.  The concern has been raised after a neo-Nazis group appeared adjacent to Keen's event outside the Victorian Parliament in Melbourne yesterday.
The LGBTIQA+ rights group has also called for the Tasmanian Government's draft bill against Nazi symbols to include the Nazis salute after that featured prominently at the Melbourne event.
British anti-transgender activist Kellie-Jay Keen, who appears online under the name Posey Parker, has been touring Australia with her open mike 'Let Women Speak' event. The tour has taken in Sydney, Brisbane, Perth and Adelaide.
At each outing Transgender rights protesters have significantly outnumbered the supporters turning up to speak at Keen's event. At yesterday appearance in Melbourne police held back Transgender rights protesters, while allowing neo-Nazi group National Socialist Movement to parade in front of protesters making Nazi salutes and holding up a sign that read 'Destroy Paedo Freaks'.
The neo-Nazi group was then allowed to pose for photographs on the steps of the parliament, adjacent to the Let Women Speak event. It is not suggested that Kellie-Jay Keen or the organisers of the Let Women's Speak event had any link with the neo-Nazi group.
Equality Tasmania spokesperson, Rose Boccalatte said the state's parliament was no place for a speaker like Keen to be appearing.
"Parliament House, the home of Tasmanian democracy, should not be giving a platform to speakers who attract Nazi sympathisers."
"This is not the first time this has happened, with a speaker at a Kellie-Jay Keen event earlier this year quoting Hitler's 'Mein Kampf' to justify transphobia."
"While we strongly support free speech, that freedom comes with a responsibility not to harm others."
"Regardless of whether Kellie-Jay Keen's event goes ahead, we have a vigil planned for midday on Tuesday at Parliament Lawns that we urge supporters of inclusion and diversity to attend."
Equality Tasmania President, Rodney Croome, said it is vital the State Government's proposed law against Nazi symbols bans the Nazi salute.
"Victoria was the first state to pass a law against Nazi symbols, but there is little that can be done about the multiple Nazi salutes at Saturday's anti-trans rally in Melbourne because the salute isn't included in the legislation."
"We call on the Tasmanian Government to ensure our legislation bans Nazi salutes in the same way it will ban swastikas and other Nazi symbols."
Croome said the Government should also pass stronger laws to ensure all Tasmanians are protected against hate-motivated crimes.
There have been renewed calls today for federal immigration minister Andrew Giles to cancel Keen's visa and order her to leave the country. Keen is scheduled to travel to New Zealand after her Australian tour, and similar calls have been made there to stop her entering the country.
OIP Staff Update: 19th March 2023 18:38 This article has been updated to improve clarity. OUTinPerth restates that there is no suggestion that the organisers of the Let Women Speak Tour are linked to the National Socialist Movement.  
---
Do you need some support?
If you are struggling with anxiety or depression, support and counselling are available from:
QLife: 1800 184 527 / qlife.org.au (Webchat 3pm – midnight)
QLife are a counselling and referral service for LGBTQIA+ people.
DISCHARGED: [email protected] / discharged.org.au
Discharged is a trans-led support service with peer support groups for trans and gender diverse folks.
Lifeline: 13 11 14 / lifeline.org.au
Beyondblue: 1300 22 4636 / www.beyondblue.org.au
---

You can support our work by subscribing to our Patreon
or contributing to our GoFundMe campaign.