Kellie-Jay Keen 'Let Women Speak' tour begins in Sydney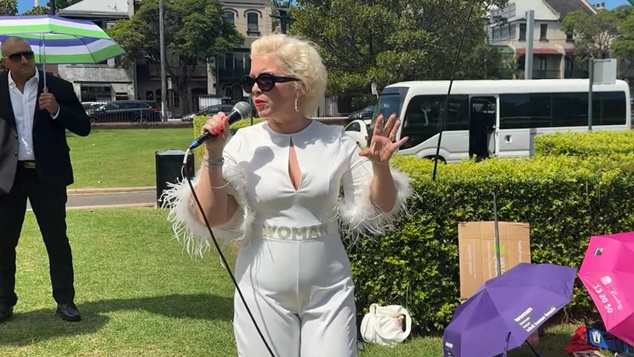 Self-proclaimed women's rights activist Kellie-Jay Keen has begun her tour of Australia with a public event in Sydney.
Warning: This story has details of statements which might be distressing to some readers. For 24-hour crisis support and suicide prevention call Lifeline on 13 11 14. For Australia-wide LGBTQI peer support call QLife on 1800 184 527 or webchat.
The event saw a small group of supporters turn up to voice their opposition to people who are transgender, while a strong police presence kept protestors at a distance.
Keen, who appears online using the moniker Posie Parker, has previously argued that transgender people should not be allowed in single-sex spaces, and that transgender youth should not be able to access medical treatments. Keen has been accused of being transphobic and having links to far-right groups.
A recent report in the UK linked Keen to the growing tide of anti-transgender sentiment and highlighted her links to far-right political groups. At one of her recent events in the United Kingdom one of the speaker's began quoting Adolf Hitler's Mein Kampf. 
The annual 'State of Hate' report from Hope Against Hate noted far right extremism is growing in the United Kingdom, and the report highlighted the role the campaigns of Kellie-Jay Keen were playing.
The report says Keen is "a leading voice in the anti-trans movement in the UK and has been praised by the far right. She has increasingly found support from and an overlap in views with the far right, which has also increasingly focused on trans people."
Speaking at the gathering, which was held in Victoria Park in inner-city Camperdown, Keen was joined by prominent Australian campaigners including the Liberal party's Katherine Deves and Binary's Kirralie Smith.
While protesters chanted 'Posie Parker you can't hide, you've got Nazis on your side.", Keen suggested that those supporting transgender rights were like the people in the 1930's who stood by while the trains took people to concentration camps in Nazi Germany.
'We now get to witness who are the people that would have likely to have waved the trains into the camps, and it's all those people over there." Keen said gesturing towards the protestors.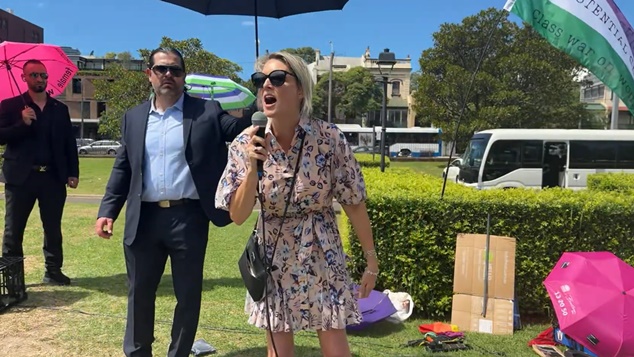 Katherine Deves, who represented the Liberal Party in the seat of Warringah at the 2021 federal election, said society was being captured by a "dystopian ideaology" that had infiltrated all organisations from the legislature, to education, and the judiciary.
"We must remove the made-up concept of gender identity from our federal law." Deves told the group.
The Sky News contributor said it was important that language been preserved, before making an unexpected claim about gay and lesbian people who had been bashed in the past.
"It's now same-gender attracted, not same-sex attracted, and I can tell you right now the people who were vilified and bashed for being gay and lesbian, it wasn't because of the gender of the person they loved or slept with, it was because of their sex."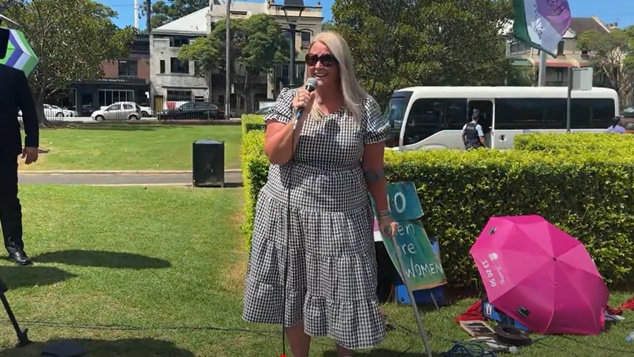 Kirralie Smith, who was previously a prominent anti-Islam campaigner who argued against halal certification and ran for parliament as part of the short-lived Australian Liberty Alliance, also spoke at the event.
Smith now heads anti-transgender organisation Binary, which morphed out of The Marriage Alliance, one of the most prominent sections of the NO campaign against marriage equality.
Speaking at the event Smith said she had recently been contacted by police who were concerned about her actions online when she focused on revealing the identity of a transgender woman in her local community. Smith revealed that her personal political profile had been closed down by Facebook, losing her access to over 47,000 followers.
After the event organisers claimed there over 300 people attending supporting their position, and that there were less than 100 protesters in attendance. Video footage and photographs from the event do not appear to support the claim.
The Let Women Speak Tour will now move to Brisbane on Sunday, before heading to a Perth on Tuesday where Kellie-Jay Keen will appear on the steps on the Western Australian parliament.
Further dates include Adelaide, Canberra and Hobart.  Keen will then head to New Zealand for appearances in Auckland and Christchurch.
South Australian Greens MPs have said Keen is not welcome in their state.  Speaking to 7News earlier this week Rob Simms and
'We don't want to see this person coming here, and I think a lot of South Australians would be horrified by these views." Simms said.
'I'm not really that much of a fan of Kellie-Jay Keen coming to Adelaide to stir up hatred" said fellow Greens MP Tammy Franks.
When Keen arrives in Brisbane today she'll face more protestors.
"Kellie Jay Keen is one of the UK's most notorious noxious transphobes, so she deserves to be properly welcomed to our city with large, loud, proud counter protests," said Sel Dowd, convenor of Equal Love Brisbane.
"Her rallies are also breeding grounds for the far right; they have been attended by fascists, Christian fundamentalists and Holocaust deniers.
"She has also appeared on Tucker Carlson's show in the USA, and has praised Tommy Robinson, a British far-right, Islamophobic activist, and convicted violent criminal. With friends like these, we see through her lies of 'protecting women'.
"Kellie Jay Keen is a dangerous figure. She wants to fan the flames of transphobia in society and is coming to major cities in Australia to spread her bigotry," Dowd said.
OIP Staff
---
Do you need some support?
If you are struggling with anxiety or depression, support and counselling are available from:
QLife: 1800 184 527 / qlife.org.au (Webchat 3pm – midnight)
QLife are a counselling and referral service for LGBTQIA+ people.
DISCHARGED: [email protected] / discharged.org.au
Discharged is a trans-led support service with peer support groups for trans and gender diverse folks.
Lifeline: 13 11 14 / lifeline.org.au
Beyondblue: 1300 22 4636 / www.beyondblue.org.au
---

You can support our work by subscribing to our Patreon
or contributing to our GoFundMe campaign.