Ernie and Bert Are Gay Again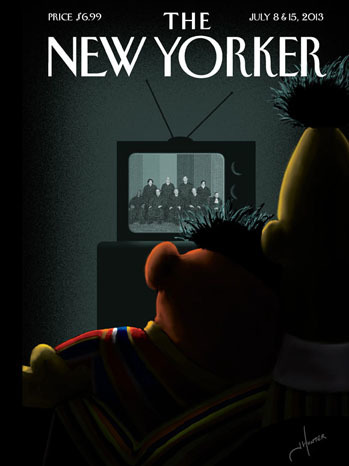 Despite the company behind iconic children's TV program 'Sesame Street' issuing a statement declaring that "Ernie and Bert are not gay, they're not straight, they are puppets" back in 2011, the two are once again 'out of the closet' on the cover of the new edition of 'The New Yorker'.
The cover of next week's edition show's the two Muppets cuddling on the couch while watching the US Supreme Court's historic ruling that called the Defense of Marriage Act (DOMA) unconstitutional.
The image was created by artist Jack Hunter who commented to the magazine's culture desk. "It's amazing to witness how attitudes on gay rights have evolved in my lifetime," said Mr Hunter, "This is great for our kids, a moment we can all celebrate."
The image has been around the internet for some time, it was first created when President Barrack Obama changed his stance on same sex marriage. Originally the president was featured on the TV screen, but it has been updated for the supreme court ruling.
OIP Staff