Feature Book: Indelible Ink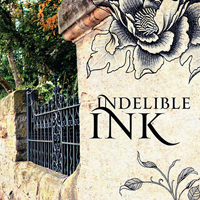 Indelible Ink
by Fiona McGregor
Scribe
For me, the mark of a good book is one that draws you in and envelops you in its story and characters until you find yourself pondering them in the hours between readings. Indelible Ink definitely delivers on this and is one of the most satisfying reads I have experienced in quite a while.
The underlying premise for Indelible Ink is beautifully simple – 59 year-old Marie King decides to get a tattoo on a drunken whim and finds herself addicted. Her new obsession doesn't exactly thrill her north-shore friends and family but her burgeoning friendship with her tattoo artist invigorates her and introduces her to a whole new world.
According to McGregor, the idea for the novel came from a vague rumour she heard about a woman who began to get extensively tattooed after her divorce.
'The notion of such radical change excited me: I grew up on the lower North Shore so I know the milieu well and the drastic implications of such behaviour,' she said.
'Also, as a body based performance artist, I was fascinated by the use of the body as vehicle of self-expression by a woman up till then very conventional. Tattooed myself, I have an insider's understanding of the passion.'
While the plot may seem simple, the true measure of Fiona McGregor's skill as a writer is the rich detail and commentary she manages to weave into the story. It becomes so much more than an account of a bored, upper class mother looking for change – it becomes a reflection of wider society.
The novel also paints an achingly honest portrait of family life, with McGregor taking the time to explore Marie's children's lives and loves.
'I come from a big family and find it difficult to conceive of single voices and solo characters: community is fundamental,' said McGregor.
'Families always imply multiple viewpoints, conflict, and chaos. They're the places of original tragedy I think, where we enact our first murders and betrayals. They mark us for life.'
In the six years McGregor has been working on Indelible Ink (between other projects), much has changed in Australia and Sydney, where the book is set. One of the most significant issues that became a theme throughout the novel is the skyrocketing real estate market.
'The latter is a national phenomenon but particularly acute in Sydney, and has meant huge losses to the artistic and left wing community: every year more are forced out,' said McGregor.
'Real estate became one of the main sources of drama in the book. I can't deny my political feelings about this: I know of no other nation so focused on home ownership – economically, politically and emotionally. At the same time we have the world's most ancient civilisation – a culture whose very basis is its spiritual relationship to the land – which is still being denied its land rights and struggling to survive. I don't think this is coincidental.'
I've always loved McGregor's work. In some way I've grown up with her writing and with this book she herself has reached a dignified maturity. I loved her previous works (Au Pair, Suck My Toes, Chemical Palace) for their quirky, individual style but here McGregor shows that she can triumph in more traditional genres without compromising her unique perspective.
'More than ever before, I embraced the form of the traditional novel' said McGregor.
'It amazes me with its potential. It is infinite, like a country, teeming with all sorts of life, familiar in some ways but with much unmapped terrain. I didn't really feel until I wrote Indelible Ink that I was a novelist. Now that I finally feel I am, the task seems even greater, but more joyful too, and paradoxically much more attainable.'
If Indelible Ink isn't nominated for a swag of literary awards, I'll eat the book!
Amy Henderson