Fun and Gay Games in Cologne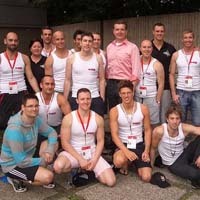 The world's biggest sports and cultural festival, the Gay Games has been hailed a success with almost 10,000 participants from 70 countries gathering to compete in Cologne, Germany last month.
Australia was well represented, with 365 athletes competing in a wide range of sports across the week-long games.
By the time the Federation of Gay Games flag was passed to the 2014 host city, Cleveland at the closing ceremony, Australia's LGBT athletes had won over 200 medals, including 90 gold, 92 silver and 53 bronze.
Olympic gold medalist Matthew Mitcham was the official ambassador for the eighth Gay Games, flying to Germany to offer support and read the athletes oath on behalf of all participants at the opening ceremony.
At the welcoming reception for the Australian contingent, athletes received support from openly gay officials Peter Tesch, the Australian ambassador to Germany and Germany's Vice Chancellor, Guido Westerwelle.
Gay and lesbian water polo team, Melbourne Surge bought home silver medals after beating previous gold medallists, West Hollywood. They were defeated in the finals by Queer Utah Aquatics Club.
According to long term Melbourne Surge team member David Imber, the atmosphere surrounding the games was fantastic.
'The queer vibe was amazing on the trains, in the streets, everywhere… People wore their (Gay Games) tags and you just smiled at them,' he said.
The games were accompanied by cultural and arts events including a band festival, cheerleading tournament and dance parties.
Amy Henderson
***