The future of HIV leadership in Western Australia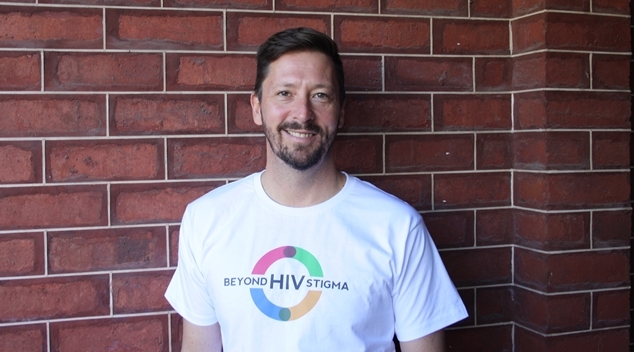 Ren Adams is an openly HIV positive gay man who is the founding Chair of the new Positive Organisation Western Australia (POWA). Living with HIV for 16 years, with an array of skills including strategic communications, Government, and consultancy work, and having recently completed a retreat with the Positive Leadership Development Institute (PLDI), Ren is a powerhouse of enthusiasm, passion, and confidence. I sat down with Ren to discuss his vision for the future of leadership in the HIV sector.
Can you tell me about yourself? Who are you? And what's your relationship to HIV? 
I'm Perth born and bred. I moved to Melbourne when I was in my mid-twenties, around 19-20 years ago. I really kind of felt that Perth was a bit small for me at the time, and I needed something more. Melbourne opened up a whole new world for me – it made me feel like I was part of something bigger. Along the way, I fell in love with a beautiful man and we had a whirlwind romance.
About 16 years ago I became HIV positive. I was diagnosed when I was on a working holiday in London, and I became involved in a clinical trial at St. Mary's hospital there. This was back in the days when we were using early drugs like AZT, Saquinavir and DDI… and while they were relatively effective they did have some pretty severe side effects. The clinical trial was one of the first trials trying to understand the benefits of getting people recently diagnosed with HIV straight onto medication, as it was theorised that there would be better outcomes for people's health later on – which we now know is true. In retrospect, I'm very proud to know that I was involved in contributing to our current understanding and knowledge about HIV.
I don't have any shame or regret about being HIV positive, it's something that I live with day to day, and while it was very difficult in the early days, I had a partner to support me through that so I was very lucky in that respect. I feel like a regular person who happens to have HIV, and I don't really define myself as a HIV-positive person – I'm the person, not the virus. However, I think it's a really powerful and unique perspective to be HIV positive and it really assists me in advocating for people with HIV. The lived experience is really important and it's something that can't be replaced.
Although I told myself I would never move back to Perth, the community, connection, vibrancy, and natural beauty of WA drew me back here about 2 years ago. Right from the outset I decided I wanted to get involved in the HIV sector. I had been thinking about it for a long time, and although back in Melbourne I was a member of Living Positive Victoria, I hadn't really involved myself directly, so I started volunteering with the WA AIDS Council (WAAC) and very quickly decided that I wanted to do more.
I was elected deputy chair of WAAC in September last year, which was a fantastic experience, and where I started to feel like a real leader in the HIV sector. I recently resigned from WAAC in order to take up the role as Chair of Positive Organisation Western Australia (POWA), which is the only dedicated peer-led HIV organisation in WA. It's really exciting, and I'm very inspired, although we've got a lot of work to do!
You spoke about the importance of lived experience – is that what made you want to start taking a leadership role in this area? 
Yeah, I think I've always had an interest in giving back to the community, going back to social research I've been involved with, as well as work that I did with the Government, particularly in areas around social services such as family relationships, child protection, and social housing. I now work as a consultant, currently with a workplace rehabilitation provider in Perth. I think I have a natural tendency to want to support vulnerable people. And I guess living with HIV and having supported some people who have become HIV positive over the years, I kind of realised we needed more peer-led support and it was something I wanted to do. So yeah, absolutely, the lived experience has made me want to be involved.
What challenges do you see emerging in Australia's HIV response in the next 5 years? What role can clear leadership provide? 
I think some of the main challenges are still stigma, discrimination, and criminalisation of HIV. This includes both internalised stigma for people living with HIV and stigma against people living with HIV. I think they're massive problems and we are not really making strong inroads towards tackling and overcoming those issues. I think it's stigma and discrimination that prevents open discussion about HIV. When you mention HIV to people these days there are some people who are very comfortable and open in that discussion. But others don't know how to deal with it, and it's because of this stigma.
HIV can be this kind of untouchable topic, which I think is a real problem, particularly in high risk groups like men who have sex with men, but also in the general population – people who have sex need to be able to talk about HIV, they need to know the facts about HIV, it can't be a taboo topic. Making it taboo prevents people from getting tested, they're scared to know, they don't want to be seen testing, and they're afraid to ask their doctor for a HIV test. Everyone has a status and people should know their status by getting a test. We know that people living with HIV these days who are on medications and maintain an undetectable viral load are the safest people around in terms of HIV transmission –  they can't pass it on. Undetectable is Untransmittable, or U=U. It's really important that we get that message out there and educate the broader public about what it means to be HIV positive, and ensure that more people get tested.
I also think that Pre-Exposure Prophylaxis (PrEP) is a really important part of this mix. PrEP is a preventative tool for people who are HIV negative that prevents them from becoming HIV positive. I think the greater uptake of PrEP is an absolute priority for WA, and for the country in general. At last we are getting a PrEP trial in WA which has taken a lot longer than most of the community had hoped. It is planned to be available in July this year and I hope to see that happen. The 2000 places that are going to be made available in the trial – where the medication is fully funded by the trial – will go a long way to preventing new infections, and rolling that out to the right people, including regional and remote participants, which is a challenge in a big state like WA, is a really crucial aspect of it. Access to PrEP, getting PrEP on the PBS so that it's readily available to more people in Australia is vital in actually reaching an end to this epidemic.
I understand that you don't represent all people living with HIV, but you would have a greater sense people's attitudes in the PLHIV community – what's the general vibe around PrEP from the perspectives of people living with HIV? 
Huge support. While people living with HIV like me who are undetectable can't pass it onto anyone else – it doesn't matter if I have sex with someone and they're on PrEP, we're protected from my undetectable status – but I think it's the peace of mind for people. It's also about having that broader discussion about HIV and what it means and the fact that it is still prevalent in our community. We have 20 new infections in Australia every week, and it's something that's a reality. It's not going away, and rates of infection have not reduced in the last decade or so. Community members that I've spoken to understand that it's a major tool to prevent new HIV transmissions, and that it will prevent that fear of HIV for a lot of people.
Through ongoing discussions with doctors, health professionals, people living with HIV, and people on PrEP, I think it's really going to contribute to lessening the discrimination and stigma towards people living with HIV. So, it's a really, really important tool. It's also important to note that it's not just about one agency doing it, and this is one of the things I think that is really good about the trial: it's a partnership, and while it's being led by WAAC, it's not possible without other partners. The trial will rely on getting the word out there, and it's going to be a collaborative approach, which is vital to tackling the epidemic.
Ren, you recently attended the Positive Leadership Development Institute (PLDI) – can you explain what this is and how it's contributed to your personal development as a leader, and as a person living with HIV? 
PLDI is a not-for-profit organisation that's a collaboration between many different HIV/AIDS organisations across Australia that provide funding towards it. It's aimed at developing skills, resilience, and leadership for people living with HIV, so that they can take these attributes out to their communities and start making a difference. I had the privilege to attend the "who am I as a leader?" retreat in March this year – it was amazing.
We had some highly skilled and accomplished leaders facilitating the weekend workshop, and some amazing people that attended. It was a real mix of people living with HIV, from newly diagnosed as recently as in the last 6 months, women living HIV, and those who have been living with HIV for longer. I was actually one of the people who had been living with HIV the longest. We all came to this workshop with a unique perspective and lived experience.
One thing that has been a real gap in the focus and knowledge with HIV is women living with HIV, which is partly because of a perception that HIV is say, a 'gay men's condition', or a virus that only effects men who have sex with men – which is not true. Women have unique challenges and experiences and for me it was incredible hearing their stories and learning from them and sharing that experience. PLDI has really given me a new perspective and I felt really empowered by attending it – it's spurred me on to do more in this sector!
What do you think it means to be an effective leader?
Leaders all have different strengths, skills, attributes, and approaches. Leaders can take many different forms – it's about trying to identify what your strengths are and where you're best placed as a leader, and then taking on the skills and opinions of others. I think leadership is by example and by being open to other ideas. I've worked with some really amazing people over the years, and it's those leaders that lead by example and allow others to thrive that really make a difference. That's certainly what I hope to bring to the PLHIV community in WA through POWA.
Are there figures in the HIV response that specifically come to mind? Or other leaders outside of that, that are influential? 
I think people living with HIV are crucial to the response in this country because lived experience is so unique and special. There are a lot of really dedicated and skilled people working in the field, which also includes a lot of HIV negative people – after all, it's a combined and collaborative approach. There are so many great leaders and I don't want to play favourites – so what I'll do is mention the three facilitators from the PLDI workshop I attended. These were Richard Keane, president of Living Positive Victoria and all around great guy, Sarah Feagan, president of Positive Women in Victoria, which is the only PLHIV organisation for women in the country, and Nic Holas, co-founder of the Institute of Many (TIM), and also writer and HIV activist. I was very lucky to have them as my facilitators.
Fantastic. You mentioned before about gaps around Women living with HIV. In populations living with HIV, there are varying communities that are impacted by social norms, legal instruments, and historical trauma in differing ways – how do we make sure that we remain attentive and responsive to all of these differing subjectivities?
This is a real issue and something that has been discussed a lot, certainly with us at POWA, generally in the community, and definitely at my time on the board of WAAC. I think it's about finding ways to engage effectively with these wide range of communities. Best practice models of engagement are about finding contacts that have a pre-existing connection with those communities, and listening and acting on what you learn from them. I think this is something we can always do better. HIV is really complex in the way that it effects lots of different communities, and so finding these innovative ways to target those communities specifically, while also having the funding and capacity to actually do this, is really crucial.
Are there particular communities that you're hoping POWA can address that are typically more difficult to engage with? 
In WA, there are some people living with HIV with complex needs who are being served very well by existing agencies, but there are a lot that are not reached. In WA we do unfortunately have the tyranny of distance, and we have a lot more of a disparate population of people living with HIV as a result. I think some of the keys populations include ageing populations, women living with HIV, Aboriginal and Torres Strait Islander people, and people living in regional and remote areas.
What kinds of challenges do you see yourself facing as a leader, Ren? 
Look I think we've got a really big opportunity in WA to develop partnerships and effectively engage with both the PLHIV community and people at risk of acquiring HIV. I have an established relationship with WAAC from my time on the board, and so my focus is really on ensuring that we can work together across all departments and agencies to really improve our response to HIV, while building on the existing strengths and abilities. For me, the major challenge as a leader will be to develop these partnerships and really get that collaboration happening.
What is the future of HIV leadership in Western Australia? 
I'd love to say it's peer-based. I think it's really important that we have a PLHIV voice – and a strong voice – while advocating for and working with existing power-bases. I'm going to say that it's POWA.
For more information on Positive Organisation Western Australia, please contact Ren on 0422 146 680. 
Anthony K J Smith 
---
Support OUTinPerth
Thanks for reading OUTinPerth. We can only create LGBTIQA+ focused media with your help.
If you can help support our work, please consider assisting us through a one-off contribution to our GoFundMe campaign, or a regular contribution through our Patreon appeal.