Get YA Words Out! A new initiative for young queer writers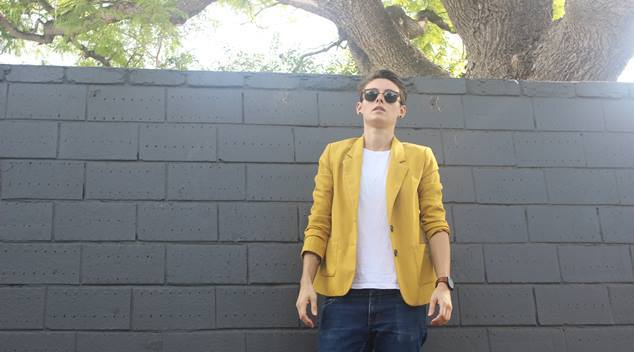 A new initiative has emerged in Australia, helping to amplify the voices of young LGBTQIA+ writers and authors.
Get YA Words Out is a new platform for up-and-coming queer authors and readers to come together and carve a space where our own words can be read, and our #OwnVoices can be heard.
We caught up with the mind behind the movement, Stacey Malacari, to find out more about the project.
Tell us what the project is all about!
Get YA Words Out is a platform supporting the writing, reading and publishing of Australian Queer Young Adult fiction (Australian in this case includes Australian authors based overseas).
Our primary goal is to create a better environment for Queer (LGBTQIA+) writers, in terms of representation, visibility and recognition. This entails finding and creating safe spaces for Queer writers, bridging the gap of privilege between non-Queer and Queer writers and building up confidence in emerging writers. We do this through workshops, mentorships, and connecting emerging writers with editors and publishers.
The project also aims to create an understanding amongst non-Queer authors publishing Queer books/characters about how to respectfully and authentically do that. We do this by publishing articles on topics such as sex, gender identity and Queer culture, and critically analysing novels, rather than just reviewing them.
Tell us about how it ties in to #AusQueerYA and OwnVoices.
#AusQueerYA is the main hashtag for our industry. It stands for Australian Queer (LGBTQIA+) Young Adult fiction. It was created to help readers find books with Queer characters (While #AusQueerYA is used to mark YA books with secondary Queer characters too, Get YA Words Out only recognises Queer main characters).
Own Voices is a movement to support writers who identify in the same way as their main character/s. In terms of Get YA Words Out, this means highlighting, supporting, and encouraging Queer writers who are writing Queer characters, and recognising that these are more important stories than Queer stories written by non-Queer authors.
It basically calls for people to stop taking up space that is not rightfully theirs. Own Voices is an incredibly powerful movement that extends across multiple genres, forms of art and minority groups. It's about giving power back to those groups who have been historically silenced, censored and spoken for by the patriarchal majority.
What inspired you to start Get YA Words Out?
The motivation for Get YA Words Out was two-fold. Firstly, I was at the time slogging through my second draft of an AusQueerYA novel (which is now near completion), and found it incredibly frustrating trying to find a network of support, information about Queer-friendly publication options and advice for writing Queer stories written by Queer people. After many hours spent trawling the net for information, I figured it was only right to share what I'd learnt with other writers out there who were struggling like I was.
Secondly, I am tired of seeing non-Queer authors being celebrated for adding 'diversity' to their novels, for being 'daring' and 'brave' for writing a Queer novel, while Queer writers are told their stories are 'too gay' or 'too political' and therefor denied publication. I am tired of seeing Queer writers lose out on grants, literary prizes, speaking opportunities and residencies because they are being judged on their sexuality and not their artistic merit.
It takes so much emotional labour to defend yourself day in and day out, so I wanted to take that weight off the backs of my fellow writers and make a stand. There is a massive problem of heteronormative privilege in the Australian literary world and the aim of this project is to tear it down, piece by piece, until Queer writers are afforded the respect and opportunities that non-Queer authors are.
What LGBTIQ authors / creators inspire you?
There are so many really amazing people doing amazing things in this world. Alison Evans, author of Ida, tackling stereotypes in terms of both sexuality/gender and what a YA novel is supposed to be. Nevo Zisin for their strength and bravery in being a voice of activism for trans/non-binary rights.
All of my Queer friends, swimming against the current in their myriad of ways. Will Kostakis, who manages to retain his humour even after facing such blatant homophobia in his professional career. Every Queer artist, activist and human being who gets up every morning and does their thing,  despite how incredibly hard it is sometimes just to make it through the day.
Why do you think Australia doesn't have such high profile contemporary LGBTIQ writers/artists as say the US or UK?
Australia has some incredibly talented Queer authors. I believe the problem is with the publishing industries bias toward non-Queer, heteronormative authors/stories, the smaller market here as compared to the US (which affects sales, leading to Queer Australian books featuring lower on things like the New York Times best seller list, if you're into that kind of thing) and the ever present undercurrent of homophobia in our society.
As Queer artists we have to stop looking to the non-Queer community to celebrate us and do things for ourselves and for our community. The rest of the world will see what they're missing eventually!
Why do you think writing is an important tool for expression (especially in the LGBTIQ+ community)?
Being Queer is often associated with invisibility, with hiding ourselves away, staying in the closet or denying our identities completely. Writing is an important way not only for people to express themselves, but for readers to see they are not alone.
Get YA Words Out is focused on Young Adult literature, because this is such a vital time in the development of our identities. For young adults to see themselves in stories, to have their identities recognised and normalised is the most important outcome of this project.
For more information on Get YA Words Out visit getyawordsout.com, and follow on Instagram @getyawordsout, Twitter @getyawordsout & Facebook at Get YA Words Out.
The team welcome submissions of fiction and non-fiction work by Queer writers at all times, so check their website for details and get writing!
Leigh Andrew Hill
---
Support OUTinPerth
Thanks for reading OUTinPerth. We can only create LGBTIQA+ focused media with your help.
If you can help support our work, please consider assisting us through a one-off contribution to our GoFundMe campaign, or a regular contribution through our Patreon appeal.