Government amends Safe Schools program after Federal review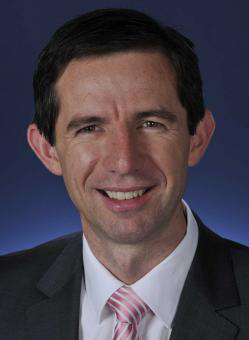 The Federal Government have announced changes to the Safe Schools anti-bullying program in light of a review led by Professor Bill Louden.
Federal Education Minister Simon Birmingham (pictured left) has announced a number of changes to the program, including restricting specific resources to counselling sessions, editing lesson plans and greater parental involvement.
Mr Birmingham said that students should not be confronted with accessing information or material that is "inappropriate for their age or cultural background."
The alterations to the program will see content for Year 7/8 students changed to comply with the biology curriculum for that particular age group. They will also see links to external content reduced so that they only connect users with government funded mental health services.

All resources from Safe Schools will now only be available to secondary schools, and parents will be required to sign a participation form to allow their child to participate. A fact sheet will now be required for distribution to parents of applicable schools.
The review of Safe Schools came as a result of an outcry from conservative politicians against the program.
Shadow Education Minister Kate Ellis is against the changes to the program.
"This report makes clear that the divisive rubbish we've heard from the Liberal party should have no place in Australian political debate," Ms Ellis said.
Western Australia's Member for the Mining and Pastoral Region and Shadow Minister for Mental Health Stephen Dawson says he is saddened by the changes that were announced today.
"It really is a terrible indictment on Malcolm Turnbull and his leadership. This program ran for two years under the Abbott Government without problem and since the new Prime Minister took over we've seen mud slinging and now we've seen this big change," Mr Dawson said.
"What people seem to forget is that this program is there because it is needed. The reality is that many young people are still bullied because of their sexuality or their gender at school.
"I've had the opportunity to meet with the people who run the program both nationally and in Western Australia and I think that this program is the right kind of anti-bullying program to tackle these issues."
WA Greens Member for the South Metropolitan Region and their spokesperson for sexuality Lynn MacLaren says the suggestion that Safe Schools is pushing "queer theory" shows a complete lack of understanding for the plight of potentially very vulnerable young people in schools.
"It is disappointing that the Turnbull Government caved to pressure from the homophobic back-bench to hold the review in the first place," Ms MacLaren said.
"Today was the Sixth Annual National Day of Action Against Bullying and Violence. It should have been a day to encourage young people to be proud of who they really are and to stand up for those who are different.
"Instead, many will feel like the people running their country object to the promotion of understanding and tolerance in their school environment."
Professor Louden's review of the program found that all of the Safe Schools resources aligned with the intended objectives; increasing support for and reducing prejudice against LGBTI students.
Leigh Andrew Hill
This story will be updated throughout the day.
Front image:- Stock photo
---
Sources
Tags: AusPol, Bill Louden, coalition, Greens, Kate Ellis, Labor, LGBTI bullying, safe schools, Simon Birmingham, Stephen Dawson