Heather Peace Brings the Music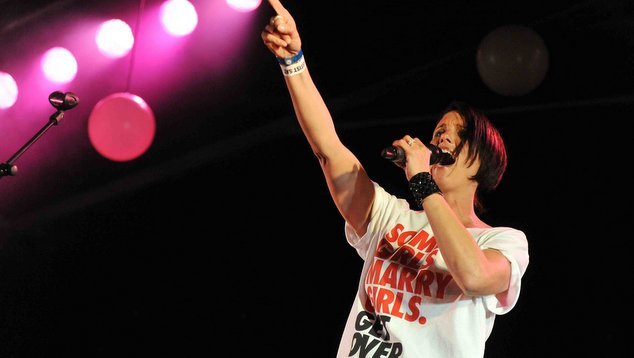 Heather Peace (a.k.a. Lip Service's Detective Sergeant Sam Murray) is bringing her musical stylings to the Fly by Night Club this February 22nd. OUTinPerth was lucky enough to chat to the singer, songwriter, actor and megababe about her adventures on camera and onstage.
What would you say are your main musical influences?
I've got a massively eclectic taste in what I listen to and I think it all influences me to an extent, even if you can't always tell when you hear my songs. I love listening to Jazz, I'm a massive Michael Jackson fan and recently I've been obsessed with The XX album. When there's an album I like I do obsess over how they've recorded it, the kind of mics and guitars they've used, the feel of the sounds and I'd say all of that influences my approach to making an album rather than necessarily the sound being Pop or Jazz or anything like that.
You've previously stated that you write best when you're miserable, so how do you think your song writing will progress now that you're happily married?
I was really worried about that because previously I wrote my best songs when I was unhappy and most of Fairytales came from quite dark places when I was going through break ups or not happy at work etc. Now that I'm happily married to the love of my life and I'm absolutely loving my work – with music and acting – I was concerned that I'd have nothing to sing about. So I've basically pinched misery from other people! There's a song called House For Your Broken Heart on the new album that's all about my dear friend's break up and there's a couple of others that come from an outward place rather than within me. But I've also discovered that I can actually write when I'm happy. So this album has a few really light, happy pop songs too.
Your new album is going to be released in the UK on your return from Australia. Are we going to hear any of your new stuff when you play at the Fly by Night Club or will you mainly be playing songs from Fairytales?
I'll definitely do some of the new songs! I just can't help myself because I love them and I'm really excited to share them. So the Australian fans will be amongst the first to hear them and I reckon they'll give me some good feedback.
You've said in the past that you'd quite like to work full time as a musician, maybe even start up your own record label. Are you heading more in that direction at the moment?
I did actually start up my own label – Kaleidoscope Records and I released Fairytales via that route and the next album will be released on there too. In the future I think I'd like to sign other artists and release their music too. In terms of doing this full time, I love it and I'm taking a bit of a break from acting at the moment so that I have time to tour, release the album and do promo etc. But I'd definitely miss acting and I couldn't give it up altogether.
Your role as Detective Sergeant Sam Murray on Lip Service has built up quite a fan base for you in Australia. Things had taken a very dark turn for you character by the end of Season 2. How did you feel about leaving a lot of that unresolved when the show wasn't given a third season?
The reaction to Lip Service was incredible. None of the girls or Harriet, the creator of the show could have imagined how huge it would be around the world. I loved playing Sam, she was such a good person and although things got dark for her in series 2 I think she would have had a little bit of therapy and got herself back together and gone on to be happy with a wife and kids and also to be a police chief! We were all sad that there was no third series, we thought the fans deserved to see how those stories ended at least.
How would you describe your character on Waterloo Road for those who haven't seen it?
Nikki Boston is an ex-army officer who is now an English teacher at the school so she's very strict and the kids know she'll take no-nonsense. But at the same time, she's a little bit lost inside, she doesn't find it easy to embrace the person she is and this series we see her try to work through this and it's a long, difficult road. I think Nikki could also benefit from a little bit of therapy. I should add that she has a hot girlfriend called Vix.
What are you future plans for acting currently looking like?
I've finished at Waterloo Road and I'm really concentrating on my music for now. The album will come out in spring. Right after Waterloo Road, I did film a short drama with some incredible actors and I'm really excited about that airing because it's a really fantastic story and I'm proud that I was part of it.
What are you looking forward to about visiting Perth for the first time?
Everything! We didn't go to Perth on the last tour because the dates wouldn't work and we had so many Tweets and Facebook messages from people who were disappointed and I was so touched by that, by the fact that they wanted me there. So, that was the first date we booked this time. You tell me, what should I do before the gig and after the gig? Send me some recommendations on Twitter? I can't wait to see you all in February.
Sophie Joske; Image: Dawn Kilner