Lily Allen faces online backlash after using gay slur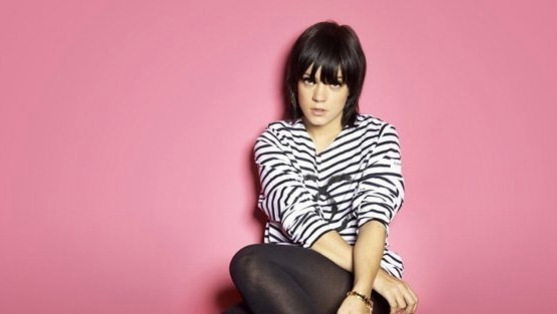 Lily Allen is facing an online backlash after she referred to the LGBT people as "fags" on a Twitter post.
The F*ck You  singer was responding to a post from queer magazine GT suggesting that their followers should check out Allen's latest song which is an anti-Trump rallying call.
Allen responded by tweeting "Fags hate Trump", but her followers were quick to point out that the phrase is considered by many to be a slur.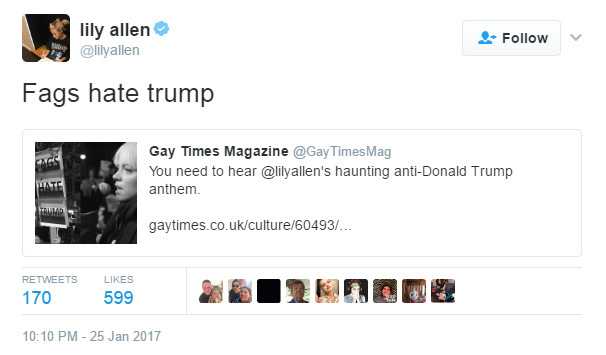 The track that Allen has just released is a cover of the Rufus Wainwright song Going to a Town. The track is produced by Mark Ronson, who was behind some of her biggest hits.
The song comes with a video highlighting the protests against new US president Donald Trump.
Fans have criticised the singer for her post but Allen has defended the comment pointing out the phrase is on the poster featured in the video.
Long time gay rights campaigner Peter Tatchell commented saying "Placard is held by gay person who's using the word fags in a positive, affirming way, as gesture of pride & defiance."
The comments kicked off an online debate about who can use the phrase without causing offense.
As Joe Jackson sang in his hit Real Men. 
"You don't want to sound dumb, don't want to offend
So don't call me a faggot
Not unless you are a friend."
What do you think? Add your thoughts in the comments section.
Tags: Bisexual, donald trump, gay, Joe Jackson, Lesbian, Lily Allen, Mark Ronson, Peter Tachell, slur, social media, trans*, transgender, Twitter