Mickey Taylor: Not your average porn star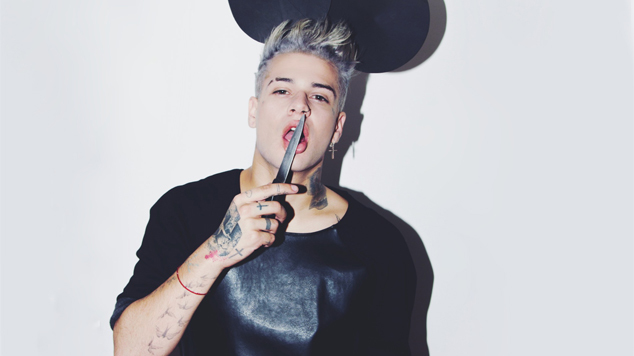 Adult film star, musician and vlogger Mickey Taylor is a man with a mission. Unabashed and earnest, the entrepreneur talks to Leigh Hill about music, pornography and his mummy.
How did you get started in the adult film industry?
I started out kind of strange actually, I was recruited. At first I really didn't like the idea but I sat down with my mum who is super supportive. She said I'd be a fool to not at least try and that I could really make something unique in the industry and show people something different. So yeah! Thanks mum! (laughs)
Celebrities all have crazy fans – Have you had any awkward encounters with fans who recognise you from your scenes?
It does happen! I've had people run up for photos on the street or in clubs. I've had a few people get emotional and cry which is sweet. I think because I do other things like my YouTube vlogs, music, modelling etc… I've lessened the dirtier aspect people might perceive me to have as a porn star and kind of glamorised what I did a little with everything else. You don't see many porn stars on mainstream magazine covers, but I've always been a model first. It means industries are combining and being more accepting. Fans come from anywhere which is amazing and I love that and I love them!
Has it been difficult to navigate relationships working as an adult film star?
At first I found my first two relationships tough. One didn't do porn and wasn't accepting, one did porn but was very young and a little immature so he didn't understand I had many goals and things I wanted to achieve rather than just party. I'm with Jack Green now, who is also in the industry, and we just got engaged which is amazing! He's a really lovely amazing guy and we encourage each other to do well and we're both so supportive in all aspects off all our careers.
More and more porn stars are connecting with fans and communities with a social media presence, and you seem to have a very loyal fan base. Do you think that's a necessity for any performer?
God yes! I think it's hard to do well and live in the shadows these days. It's hard to get your name out amongst the hundreds of other performers. You have to build a little fame and a fan base and also connect with fans so they can see the real you and also be attracted to other things you do in say your everyday life. They like to see what we're up to. Also, for me, I love sharing with them what I'm doing next and sort of dropping behind-the-scenes teasers. Social media is an amazing medium for me to message them and connect with them and also hear what they want to see me do!
You recently tweeted some concerns about some recurring themes in pornography (priests and boys, dads and sons) – you said this is something you'd like to see die out?
Yes! With the priest thing, I don't like scenes where priests are fucking altar boys. It wasn't so long ago there was a huge scandal in the church concerning so many rape cases from years ago coming out. I think porn sometimes normalises and glamourises what can be a sensitive issue. I also think dad and son scenarios where the guys actually play family isn't really good either. It promotes incest. Don't get me wrong, I know guys with daddy turn-ons and like to call their partners "daddy" but that's not their actual parent – which is what porn simulates. I think sometimes porn recreates illegal and at times sensitive issues and as a performer it's something I don't want to do. I think people are better than that. We're smart enough to create stronger and more interesting dialogue scenes, rather than going with what they know will sell because it's the forbidden fruit. It's something I know not everyone is gonna agree with me on, but that's why we're all allowed opinions I guess! (laughs) It's also why I work with Nakedsword and have worked with other companies like Cockyboys or Men.com because they are very good at creative dialogue and great scripts for cast members.
On that note, do you think we should encourage more public dialogue about adult film and pornographic content to dispel taboo? I mean, you're as much an entertainer as any other performer, right?
I think that at the moment the porn industry is in a huge change and a lot is moving around and being rethought which is great. Out with old and in with the new. Yes, I am an entertainer but I respect not every model and consumer wants to see dialogue scenes, which is why they will go to other studios. For me, I want to entertain, perform and arouse. Nothing wrong with showing versatility! (laughs)
Now you're making the foray into music – is that something you'd always planned?
Most definitely not! I have always been a singer, I did musical theatre for a long time but dance was my major as far as I was concerned. I've never seen myself as lead singer material, or producing a song or even an album. I did an interview a while back, talking about my past as performer and then fans demanded I try something. So, I covered Lana Del Rey on YouTube and they all loved it! From there I was asked to release this album. It's almost finished and honestly I've loved it, I wrote each track and it's been like therapy for me and a great confidence boost. Now I just want to get it out there and perform it all – which I plan to do next year.
What inspires you when you're writing tunes?
Mainly from men in my life and also strange or unique things that happen too. I have written about my ex, my fiancé, a friend's boyfriend – but then I've also written about strange party I went to, and a letter a fan had once given me. My next track to be released features an Australian model and it's about the troubles of fame in certain industries.
I do find strength and inspiration from people like Halsey, Lana Del Rey, Demi Lovato and Paramore.
Can we expect to see Mickey T in Australia any time soon?
Yes! I have dates booked in Perth and Melbourne. Though I would like to stop in Sydney too…
Mickey's singles 'Pain' and 'Diamonds' from his upcoming album 'A Puppet's Lament' are available now on iTunes and Spotify.
Leigh Hill