It's time for Labor to stop playing political football with LGBTIQA+ people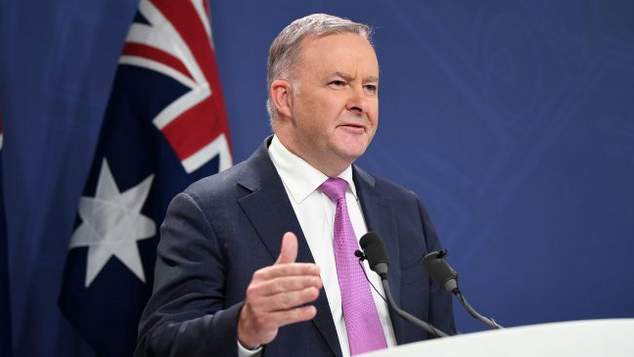 OPINION
Following Labor's defeat at the 2019 election Anthony Albanese emerged as the new leader of the party, vowing to re-evaluate the party's policies that had failed to get them into government.
He argued that Labor had confused voters by having too many detailed policies, a hefty document that gave critics too many opportunities to launch fear campaigns and burry voters in an avalanche of "what ifs".
What has emerged from that unexpected election loss three years ago is the party's small target strategy. Shedding policies, and holding back on announcing new positions has made few items that the opposition can be targeted on.
The most common criticism from the government benches is that Labor now actually stands for very little, and has few plans for voters to analyse at this stage. The effectiveness of the strategy appeared to be working this week when the government looked desperate to paint Albanese in a negative light, bringing out quotes from over three decades ago, and politicising national security with suggests China had picked it's side with Labor.
Not long after Albanese became the leader he sat down with OUTinPerth for a one on one chat about his visions for the future. We sat down for a coffee in the lobby of a Perth hotel to address concerns he was pulling back from supporting LGBTIQA+ communities.
While he had removed the position of Shadow spokesperson on equality, Albanese insisted that ensuring equality would be central to every position in his team.
Albanese said a back to basics rewrite of the party's policy document did not represent a walk away from support for LGBTIQA+ communities, rather that the existing 340 page document was way too long for anyone to read.
The newly chosen leader also shared that during his listening tour around the country, nobody had brought up the issue of Religious Discrimination, and he remained perplexed on why it was being described as a high priority issue by the Morrison government following their miracle election win.
At the conclusion of our chat, as stood up and shook hands, a man walked over and introduced himself to Albanese and congratulated him in his new position, saying "Just remember, play a steady game, and kick with the wind in the fourth quarter."
Thanking the passerby Albanese responded, "That's a good line mate, I just might use that."
A few weeks later during an appearance on a podcast Albanese delivered the line, and it has become a often repeated statement over the last three years.
Speaking to the Sydney Morning Herald at the beginning of 2021 he continued the football metaphor.
"It's no good looking back at the last period and wondering how it was that we lost an election having been ahead in every poll for a considerable period of time…what you've got to do is to learn from that experience and make sure we're ahead when the siren goes."
As the year came to a close Albanese told the Labor caucus that the fourth quarter had arrived, and it was now time to "kick with the wind".
This week as parliament returned for it's final sitting days before the election bell rings, Albanese warned Labor MPs to keep their eye on the ball.
"We are in the fourth quarter; games have been lost in the fourth quarter before," Albanese told his MPs. "At worst, we are competitive."
Sadly it turned out that the lives of gay, lesbian, bisexual and in particular intersex and transgender Australians were the political football that was about to get kicked back and forth.
Throughout the week politicians noted that the arguments over Religious Discrimination and the pressing need for additional laws, came directly from the marriage equality legislation that was passed in 2017.
The decade long lead up to that moment had included Labor supporting changing the definition of marriage in the first place, Prime Minister Julia Gillard opposing same-sex marriage as a feminist, followed by years of private members bills, discussion and debate. On the coalition side the can was continually kicked down the road, until Prime Minister Tony Abbott was faced with a party revolt and promised a national plebiscite.
After fighting about plebiscites, we ended up with a national wide postal survey, and even thought there was an overwhelming affirmation from the electorate, the debates continued on in parliament. For many people in LGBTIQA+ communities they will carry the scars of that process for the rest of their lives.
Not everyone will have sat through parliament's marathon session that extended towards sunrise of Thursday morning, but for those who did it was a tedious return to debating the value of people's lives, how many times does it need to be said before people in parliament hear that message?
Labor managed to get one of it's amendments up, but the other three failed, they still voted in favour of the bill that included the elements they'd just spent hours debating against, promising that when it came to the next battle in the senate they'd really put up a fight.
Certainly there were moments, especially when prosecuting for a ban of vilification of religious beliefs, that Labor members seethed with passion and delivered vigorous arguments, but none of them were highlighted to the majority of Australians who caught up with the overnight developments via a quick breakfast news package.
Another week closer to the election and Albanese and his team are being praised for effectively wedging the Prime Minister, capturing him in his own trap. The PM had hoped to put Albanese between a rock and hard place, the LGBTIQA+ communities and conservative religious voters.
Instead the machinations of parliament have shown a Prime Minister who is no longer leading his team, and failing to deliver the exact reforms he had been promising in writing. Bravo – but did it have to be this way? The Greens simply said, no, this is a really bad piece of legislation that can not be salvaged.
Labor instead decided to play politics, and although they may have come out the victors, when the polls open for the federal election, LGBTIQA+ voters won't have forgotten who has been the political football in the final quarter.
Graeme Watson
Co-editor
---

---

You can support our work by subscribing to our Patreon
or contributing to our GoFundMe campaign.