Joe Lui Gives Up the Ghosts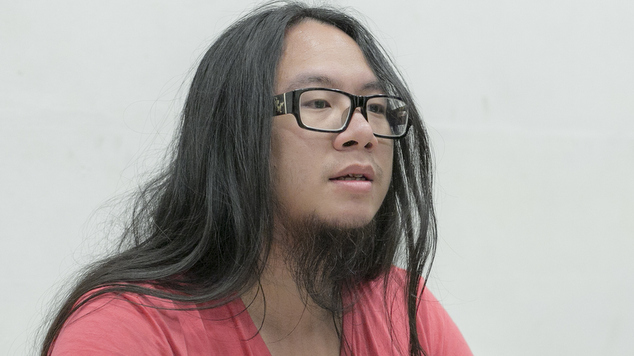 'Giving Up the Ghosts' is an original production opening this week at the Blue Room. Local director, designer and theatrical jack-of-all-trades Joe Lui is directing this dark new show by first-time theatre writer and stand up comedian Sarah Young. We had a chat to Lui about his role at the helm of this exciting new production.
'Giving Up the Ghosts' is the story of Ruth and Steve, who are meeting each for the first time after talking on an internet forum and arranging to drive together to a secluded place, where they are to navigate what could be the final moments of their lives.
"There is a kind of gallows humour that flows through it." Lui said.
"It's respectful but it's also not sombre for an hour and it's not in your face. It kinda builds up to this point where we wonder whether or not the outcome is as we think it might be to begin with, and then, I'm not going to give away the ending but it could kinda go either way sort of thing."
Lui was attracted to the script because of its in-depth portrayal of some of the darker aspects of human nature. "As a person I'm interested in mental health and depression and anxiety and suicide I think are really fascinating aspects of human nature. And I really liked that there was a concerted approach taken to really think about the humanity, the three dimensional human beings behind headlines. You get a headline like 'Two Found Dead' and you'll get a sense of what they are because they'll be like 'well she stayed at home all the time and he was a truck driver.' But I really like how Sarah, the first time scriptwriter, was really focused on drawing out the human elements in the story without kind of trivializing or trying to make their decision cool or anything like that. It was a real effort at portraying three dimensionality that I loved."
Lui has a great deal of experience directing his own work, but found it refreshing to work with writer Sarah Young, a new voice in the theatrical realm. "First time writers can get really precious about their work, with good reason. But she's just been amazing and so able to collaborate and contribute on a level that benefitted us all. And I think I learned a lot from working with her just in regards to working with someone with something so close to their heart and honouring what they want and stuff like that."
Lui's productions with his company Renegade Productions tend to use elements of a range of different forms and are often experimental in nature. 'Giving Up the Ghosts' is an artistic change of pace for Lui. "It was an interesting decision for me to take the work on because I don't normally direct text that isn't my own and I don't normally direct work that I haven't conceived from the ground up. So for me it was a choice that is different from how I normally do shows. And I think the work itself shows that, like there's been a completely different approach.
"It is deeply rooted in a realist portrayal and modernist portrayal of the world. If we want to say that the rest of my work tends towards the post-dramatic or dare I say postmodern this is very definitely a modernist piece of dramatic narrative."
For Lui's longtime collaborator Paul Grabovac, who stars alongside Blue Room favourite Georgia King, this show allows him a more traditional acting process than much of the previous work they've done together. Grabovac played God manifested as a drag queen in their recent production 'Tribe'.
"I think Paul is really excited to be in a role that, after having worked with me for so long, it's like he's going 'Wow, I'm just a character and acting'
"Well, exactly. Like with my work he's been made to be a lot more of a performer as opposed to an actor and I think he's really relishing this opportunity to just act.
"With me he has to think so much about what things mean, and I make him contribute creatively to the final outcome of the work, whereas I think he's really enjoyed this kind of like 'well here's a script, I get to the bottom of the script and I perform it the best I can' and I think it's not new for him but it's a very, it's like a returning to where he came from sort of thing. And with Georgia, I mean Georgia's just great at- I think she's a really great actor, and she certainly brings her talents to this."
'Giving Up the Ghosts' is on at The Blue Room from June 24th to July 12th.
More information available here.
Sophie Joske
Image: Jamie Breen