Josh Thomas: Just Joshin'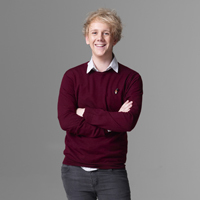 Two years ago Josh Thomas publicly came out via a podcast, now he's battling the media and public perception of himself as a 'gay comedian' rather than just a 'great comedian'. No matter how hard he tries Thomas is constantly asked for his opinions on same sex marriage and gay rights, who made Josh Thomas our leader?
As I'm driving in to the OUTinPerth office on a cold rainy morning to interview Thomas I turn on the radio. There he is being interviewed on radio about his upcoming show in Perth, for a moment I consider turning off the radio. I'm going to be speaking to him myself in half an hour, I don't want to be influenced by someone else's questions.
But I listen in as Josh gives his take on a range of topics including inevitably gay marriage.
I decide that I'll be unexpected, I won't ask Thomas any questions about being gay or gay politics, it's so predictable. 'But I like gay publications,' says Thomas, explaining that other publications don't ask really gay questions, 'we can talk about fisting', he offers.
Instead I ask Thomas if he's aware of the US Grid Iron player who shares his name. Thomas says he doesn't like it when the other Josh Thomas wins a game and all of a sudden there is mountains of Twitter talk praising him, then he realises the praise is not his.
'There's an AFL player called Josh Thomas too', he says 'All these other Josh Thomas's and their good a sport.' Thomas himself says he has nothing to offer the world of sport, but notes that some people are really good at sport.
'Mathew Mitcham', he says, 'but mostly, really he does do dance, let's face it. It's just dancing ballet with water. I have a friend who plays AFL and he tells me he's quite good, but then he's always injured, so I think maybe he's rubbish, [sport] it's just not good for you.'
Since joining Channel Ten's Talking 'Bout Your Generation game show Thomas's profile has grown considerably, the show has made him a household name. I ask if there's a point where they'll put Amanda Keller out to pasture, he'll move into the centre chair and a new younger generation will be introduced?
'I really, really sincerely hope, I mean I love that show, but I really sincerely hope that we don't get to the point where they bring in the next generation. But that's at least six years away, I'm pretty impressed though that you didn't ask me when I will move to Gen X, I'll always be Gen Y but interviewers always ask, "When will I be moving to Gen X?"
Josh Thomas may not be moving to Gen X anytime soon, but he will be found at the Octagon Theatre from August 24 – 27.
Graeme Watson
***