Should LGBTI Australians be concerned about Scott Morrison?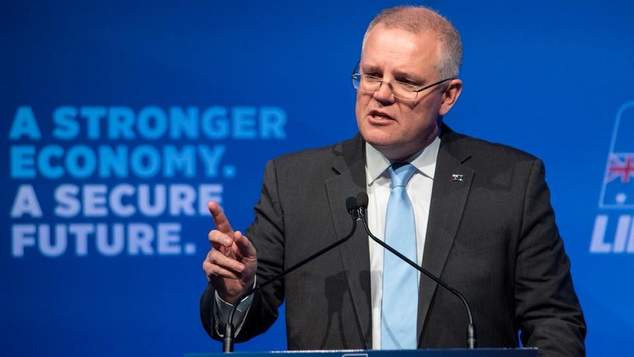 Scott Morrison is Australia's new Prime Minister but given his previous stance on marriage equality and religious freedom should LGBTIQ Australians be concerned?
Morrison campaigned for the 'No' vote in the postal survey against marriage equality. His electorate disagreed with him and voted in favour of changing the laws, but he didn't represented their wishes in parliament, instead he abstained from voting when the legislation was presented.
A devout Christian Morrison and his family attend a large Pentecostal church in his Sydney electorate. He has previously expressed his belief that people of religious faith experience as much hated and bigotry in society as LGBTIQ+ people.
He is in favour of groups and organisations from a religious background being protected from discrimination claims, and had argued that parents should be able to pull their children out of classes if they dislike the content of the lesson.
Earlier this year he praised controversial comments by Rugby player Israel Folau who said gay people "will go to hell unless they repent their sins." Morrison said Floau had shown great "strength of character in just standing up for what he believes in."
His ascendancy to the position of Prime Minister has been welcomed by the Australian Christian Lobby. Managing Director Martin Iles praised Morrison's character and called on him to release the Ruddock Review into Religious Freedom as soon as possible.
"We look forward to continuing our constructive conversation with the government on religious freedom." Iles said.
"It's now been over three months since the Ruddock Review was released. Religious freedom must be a priority for the Morrison ministry in light of increasing numbers of Australians who are getting in trouble with the law for living out their faith."
Morrison has previously spoken at the Australian Christian Lobby's annual conference. In 2016 he appeared alongside author Eric Metaxas, who defends conversion therapy for homosexuality and has liken the rise of the gay rights movement to the Nazi regime. Morrison defended his viewpoint.
"I respect everybody's opinions, I just hope and wish others would do the same," Morrison said after the event. "I have always respected everybody else's faith and always sought to respect everybody else's view."
At the conference Morrison said there was a difference between his faith and his politics.
"My faith is not my politics. My faith is an important part of who I am, as it is of every human being, whatever their faith might be. Judge me on my policies. My faith is my business." he told the crowd at the ACL event.
Its a sentiment he also included in his inaugural speech to parliament when he was first elected.
"My personal faith in Jesus Christ is not a political agenda." Morrison said on Valentine's Day in 2008. "As Lincoln said, our task is not to claim whether God is on our side but to pray earnestly that we are on His. For me, faith is personal, but the implications are social—as personal and social responsibility are at the heart of the Christian message."
National LGBTI advocacy group, just.equal,  have expressed their hope that Morrison's pledge to govern for all Australians includes the LGBTI community.
Speaking after Mr Morrison replaced Malcolm Turnbull as Prime Minsiter, just.equal spokesperson, Rodney Croome, said; "We're concerned that Mr Morrison opposed marriage equality during the postal survey, and is a proponent of so-called 'religious freedom' laws that would allow greater discrimination against LGBTI people."
"We hope Mr Morrison will govern for all Australians, and not use 'religious freedom' as an excuse to erode equal rights and protections for LGBTI Australians."
"Our message to Mr Morrison is that LGBTI people are Australians too, are as Prime Minister he has a duty to look after our welfare and protect our rights along with all other Australians." Croome said.
OIP Staff
---